ShortBookandScribes #BookReview + #Giveaway of a Signed Copy of The Steel Girls by Michelle Rawlins
I'm delighted to be sharing my thoughts about The Steel Girls by Michelle Rawlins today. It's set in my home city of Sheffield and it's an absolute delight to read. My thanks to the author for the review copy and the extra signed copy which you have a chance to win further down this post.
---

---
Sheffield, 1939. With war declared, these brave women will step up and do their bit for their country

Housewife Nancy never dreamed that she'd end up in Vickers steelworks factory but when husband Bert is called up to serve, she needs to put food on the table for her two young children.

Betty's sweetheart William has joined the RAF Reserves so she can't sit around and do nothing – even if it means giving up her ambitions to study law at night school.

Young Patty is relishing the excitement the war brings. But this shop-girl is going to have to grow up quickly, especially now she's undertaking such back-breaking and dangerous work in the factory.

The Steel Girls start off as strangers but quickly forge an unbreakable bond of friendship as these feisty factory sisters vow to keep the foundry fires burning during wartime.
---

---
I've been looking forward to reading The Steel Girls since I first heard that Michelle Rawlins was writing it. She's taken all the research, knowledge and first-hand accounts that she garnered whilst writing her non-fiction book, Women of Steel, and applied it to this, her first work of fiction.
The Steel Girls is set in Sheffield and focuses on the women who, during World War II, went to work in the steelworks for which the city is so well known. We meet Nancy, Betty and Patty, the girls of the title. Nancy is the eldest of the three, not old enough to be Betty and Patty's mother, but she becomes the mother figure of the group when she joins the workforce at Vickers steelworks to keep her mind off what is happening to her husband after he is called up. Betty puts her ambitions to be a lawyer on hold and Patty is really just after a fella to call her own. The women forge a strong friendship amidst the harsh working conditions.
I thought this was an absolutely delightful read in the saga genre, a gentle story with an undercurrent of pure grit. The women face not only prejudice from the men who think a woman can't do their job, but also the dangerous, noisy and dirty factory environment. I can't possibly imagine how scary it must have been to enter the building and be faced with the heat and the racket but Rawlins certainly helped me to envisage it.
This first book in the trilogy concentrates on the very beginning of the war, as men are called up and women learn to cope without them. I really felt for Nancy, Betty and Patty as they learned a new way to live, showing tremendous courage and more than a touch of feistiness. I thought they were really lovely characters and felt that the author poured her heart and soul into bringing them to life. This is a story of friendship, camaraderie, and just getting on with it. I'm really looking forward to catching up with the girls in book two, Christmas Hope for the Steel Girls.
---
---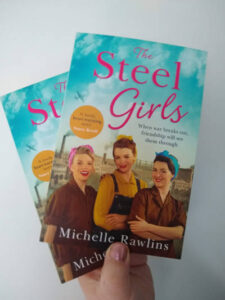 To be in with a chance of winning a paperback copy of Women of Steel you need to do at least one of the following things (each one earns you one entry):
Comment on this blog post saying why you want to read the book.
Go to the pinned tweet on my Twitter account, follow me and the author, RT and say why you want to read the book.
Good luck.
Terms and conditions:

1. UK only.
2. Giveaway ends 5pm Saturday 8th May 2021.
3. Winner will be chosen at random and contacted shortly after the end of the 
giveaway.
4. Spam or giveaway accounts will not be included.
---
---
After working as a journalist for 25 years, writing real life stories, for the women's magazines & national newspapers, I began teaching at the University of Sheffield – a job I love with all my heart.
Around the same time, I finished writing Women of Steel, after spending two years researching this incredible generation.
I'm currently writing a series of historical fiction books on this remarkable band of women, who sacrificed so much, by taking highly dangerous and physically relentless roles in the Sheffield steel factories, during WW2, to 'do their bit'.
When I'm not teaching or writing, I have two amazing kids and a crazy cavapoo, who are all very apt at keeping me on my toes.
There's not a day that goes by, when I don't remind myself how lucky I am to get to this position.