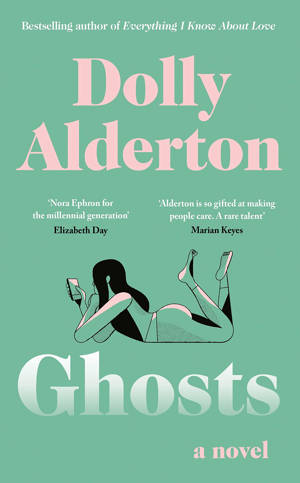 ShortBookandScribes #BookReview – Ghosts by Dolly Alderton
I'm sharing my thoughts about Ghosts by Dolly Alderton today, the debut novel by the author of Everything I Know About Love. My thanks to Hannah Sawyer from Penguin Fig Tree for the proof copy of the book for review purposes. Ghosts will be published in hardcover on 15th August.
---

---
Nina Dean has arrived at her early thirties as a successful food writer with loving friends and family, plus a new home and neighbourhood. When she meets Max, a beguiling romantic hero who tells her on date one that he's going to marry her, it feels like all is going to plan.

A new relationship couldn't have come at a better time – her thirties have not been the liberating, uncomplicated experience she was sold. Everywhere she turns, she is reminded of time passing and opportunities dwindling. Friendships are fading, ex-boyfriends are moving on and, worse, everyone's moving to the suburbs. There's no solace to be found in her family, with a mum who's caught in a baffling mid-life makeover and a beloved dad who is vanishing in slow-motion into dementia.

Dolly Alderton's debut novel is funny and tender, filled with whip-smart observations about relationships, family, memory, and how we live now.
---

---
I think Ghosts is one of the most highly anticipated reads of the year and absolutely rightly so. It's a brilliant book. It's a slice of life story following Nina Dean over a rather tumultuous year.
Nina is a food writer, just about to turn 32 as the book begins. Having split with her long-term boyfriend, Joe, she's now single again and perhaps looking for a new relationship. I say perhaps because I don't think she needs a man to complete her. Nevertheless, she joins a dating app and meets Max, a man who seems almost perfect, and they head full throttle into love.
I don't want to say too much about what happens between them but the clue is in the title and my God, I felt a visceral reaction to what happened. In fact, I found myself exclaiming aloud on a number of occasions whilst reading Ghosts. I think partly that is because it's written in the first person and I was completely drawn into Nina's narrative. It felt like she was taking me into her confidence and I felt like I cared what happened to her. I was raging about her issues with her neighbour and the situation with Max.
This is a book that put me through myriad emotions. Nina's dad is ill and there are many touching moments between them. Then there was the humour with Nina's friend, Lola, who is a tad eccentric but so much fun. And the lovely friendship between Joe and Nina, very mature and hopeful.
Despite all this, I honestly wasn't sure if the book was going to be for me when I started reading it. I wasn't sure I would gel with Nina's lifestyle and whether I would identify with her. It didn't take very long before I realised that I loved Nina, and whether I identified with her or not, I thought she was brilliant and brave, kind and funny, complicated and focused.
There's so much to engage the reader in this book. Dolly Alderton's writing is sublime and her characterisations are razor sharp. The relationship between Nina and her parents is a delight to read. I also really enjoyed Nina's job and how cooking was brought into the storyline. Everything in this book simply pops off the page and provides such an immersive experience. I can't wait to read more fiction from this author. Ghosts is superb!
---
---
Dolly Alderton is an award-winning author and journalist. She is a columnist for The Sunday Times Style and has also written for GQ, Red, Marie Claire and Grazia. She co-hosts the weekly pop-culture and current affairs podcast The High Low alongside journalist Pandora Sykes. Her first book Everything I Know About Love became a top five Sunday Times bestseller in its first week of publication and won a National Book Award for Autobiography of the Year. Her first novel Ghosts will be published by Fig Tree/Penguin in October 2020.