ShortBookandScribes #BookReview – Funicular by T.F. Lince
Funicular is self-published by T.F. Lince and is available now in paperback, ebook and audiobook.
---

---
Dare you to take a ride on the Funicular? 'Dr Who meets police procedural'. Readers, would you like to embark on a journey that will mess with your mind? Join DI Dixon a London copper who picks up a cold case after transferring to Saltburn by the sea, North Yorkshire. The Funicular cliff lift is is the setting for this mystery thriller, but all is not as it seems. Buckle in for the ride of your life on the many twists and turns, a place where even the past can't be trusted.

What is truth when the past is a lie?

Blurb
After his life is threatened, DI Bob Dixon leaves London hoping for the quiet life in the northern village of Saltburn-by-the-Sea. But when he takes on the case of young Lizzy Scraggs, missing since a huge tide hit Saltburn six years earlier, he embarks on an investigation that will push him to the very edge of reason.

Out on the beat, Bob learns the legend of the funicular car that left the top of Saltburn's famous cliff lift many years ago carrying two passengers, and arrived at the bottom empty save for an abandoned ticket. And every big tide since has seen another local child disappear.

Feeling increasingly manipulated by a shadowy nemesis, Bob struggles to make sense of the seemingly impossible clues before him. How can the dead live again? Who is the tortured man haunting the churchyard in nearby Marske? And with the next massive tide just hours away, can Bob solve the puzzle and bring an end to the tragedy of Saltburn's missing children?

…Fans of Dr Who, Broadchurch, urban fantasies, the paranormal, magical realism and police procedurals should find Funicular a real treat, you will be given all the clues the same time as DI Bob Dixon gets them, can you work out whats going on before he does?
---

---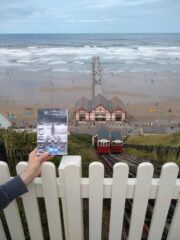 For my holiday in Saltburn-by-the-Sea I just had to buy Funicular by T.F. Lince, the water based cliff lift of the title being on the front cover. It's a really clever, well-plotted book and whilst I read it in situ, I think anyone who likes a mystery combined with a hint of the paranormal will enjoy it.
DI Bob Dixon has relocated from London to Saltburn with an eye on retirement in the not too distant future. I really liked the early chapters where he gets used to a slower pace of life and new colleagues. Wanting a bit more to do, he looks into the case of Lizzy Scraggs who went missing a few years earlier, never to be heard of again. The more he digs the more bizarre it all gets –  it all began with two passengers on the funicular who got in at the top and were gone when the doors opened again at the bottom!
This is a story that is full of intrigue with a plotline I would never have guessed at. There's a touch of fantasy about it but not overwhelmingly so and is actually just the level of the unexpected that I enjoy. I liked Bob, a very down to earth copper, and I also really enjoyed his working relationship with the man who becomes a bit of a sidekick for him. His interactions with people around the town made me smile too.
I found Funicular to be an engaging read, witty at times, suspenseful and a little bit mind-boggling.
---
---
Trev Lince originates from Marske-by-the-Sea on the North East coast of England, but now lives in Darlington with his wife, Claire.
Their daughter, Annie, is a very good guitarist and is setting up a band, playing every pub in the North East that she can. She's so rock and roll, living the dream while her father is approaching his mid-life crisis.
A keen golfer and frustrated Middlesbrough FC fan, Trev gets to as many matches as work and leisure time allow. He writes in what little spare time he has, when not working as a freelance IT Consultant.
Website to see more- https://www.room119.co.uk
Room 119 – The Whitby Trader is Trev's first book and he really enjoyed the experience of writing it.
Funicular followed and he is now writing his third novel which will probably be called reunion.
He would like to thank you for reading his books and please get in touch on Twitter @Room119TFLince