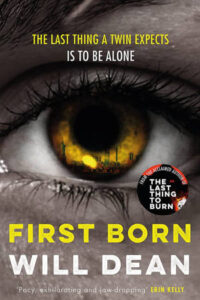 ShortBookandScribes #BookReview – First Born by Will Dean #BlogTour
It's my stop on the blog tour for First Born by Will Dean. My thanks to Jenny Platt from Hodder for the twin proof copies of the book and the place on the tour. First Born will be published on 14th April in hardcover, eBook and audiobook.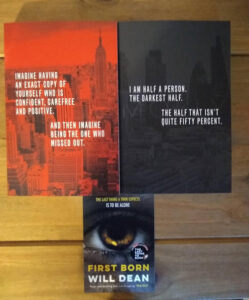 ---

---
Molly lives a quiet, contained life in London. Naturally risk averse, she gains comfort from security and structure. Every day the same.

Her identical twin Katie is her exact opposite: gregarious and spontaneous. They used to be inseparable, until Katie moved to New York a year ago. Molly still speaks to her daily without fail.

But when Molly learns that Katie has died suddenly in New York, she is thrown into unfamiliar territory. Katie is part of her DNA. As terrifying as it is, she must go there and find out what happened. As she tracks her twin's last movements, cracks begin to emerge. Nothing is what it seems. And a web of deceit is closing around her.

Delivering the same intensity of pace and storytelling that made THE LAST THING TO BURN a word-of-mouth sensation, FIRST BORN will surprise, shock and enthral.
---

---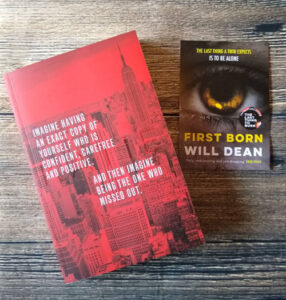 First Born tells the story of identical twins, Katie and Molly. Katie is the eldest by 3 minutes and whilst she is confident and outgoing, Molly is the opposite, crippled by her fears and living a much smaller life in London compared to Katie's exciting life in New York. The sudden death of Katie makes Molly feel compelled to go to New York and be where the other half of her was until she was cruelly taken from her.
There's a sense of unease to the story as Molly navigates New York looking for answers. The setting is fascinating and I felt fully immersed in New York life, the darker side of which somehow worked to add to the disquiet that was creeping over me. It took Molly completely out of her comfort zone and planted her in a place where she didn't feel safe. Nevertheless, she gave me quite a tour of the city in her time there.
This is a book of two halves. The first half took me in one relatively sedate direction and the second half in a completely different and more thrilling one. I must admit that Will Dean surprised me several times with plot twists that I just didn't see coming. First Born is a pacy and very readable thriller with themes of jealousy and revenge, with a somewhat unexpected and wild storyline that worked to keep me turning the pages to find out what happened to Katie.
---

---
---
---
Will Dean grew up in the East Midlands and had lived in nine different villages before the age of eighteen. After studying Law at the LSE and working in London, he settled in rural Sweden where he built a house in a boggy clearing at the centre of a vast elk forest, and it's from this base that he compulsively reads and writes. His debut novel, Dark Pines, was selected for Zoe Ball's Book Club, shortlisted for the Guardian Not the Booker prize and named a Daily Telegraph Book of the Year. Red Snow was published in January 2019 and won Best Independent Voice at the Amazon Publishing Readers' Awards, 2019. Black River was shortlisted for the Theakstons Old Peculier Award in 2021. The Last Thing to Burn was released to widespread acclaim in January 2021.