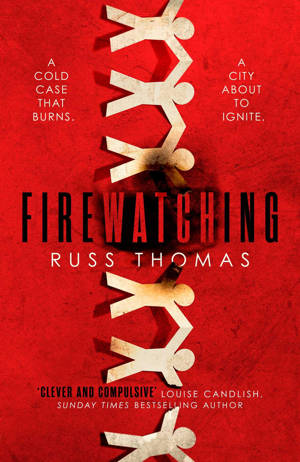 ShortBookandScribes #BookReview – Firewatching by Russ Thomas
I'm delighted to be sharing my thoughts about the brilliant Firewatching by Russ Thomas today. This is a book I was desperate to read on hardback release in February but time got away from me. I have at least read it just in time for paperback publication on 15th October. My thanks to Jess Barratt at Simon & Schuster for the proof copy of the book for review purposes.
---

---
ONE WRONG MOVE
A body is found bricked into the walls of a house. From the state of the hands, it's clear the dead man was buried alive. Soon, the victim is linked to an old missing person's case and DS Adam Tyler is called.
WILL IGNITE
As the sole representative of South Yorkshire's Cold Case Review Unit, Tyler recognises his role for what it is – a means of keeping him out of the way following an 'incident'. When this case falls in his lap, he grabs the opportunity to fix his stagnating career.
THE CITY
And then Tyler discovers he has a connection to the case that hopelessly compromises him. He makes the snap decision not to tell his superiors, certain that he and only he can solve the crime. But now Tyler must move carefully to find out the truth, without destroying the case or himself.

Meanwhile, someone in the city knows exactly what happened to the body. Someone who is watching Adam closely. Someone with an unhealthy affinity with fire. . .
---

---
I've been looking forward to reading Firewatching for ages and boy do I wish I had read this fabulous book sooner.
DS Adam Tyler solely represents South Yorkshire Police's Cold Case Department. When a body is found in a house at the edge of the Peak District he finds it's linked to a cold case and he quickly becomes involved in the investigation. The title of the book refers to somebody who is setting fires and whilst this isn't the focus of the book initially, it soon becomes clear that there may be more to it than first meets the eye.
What a protagonist Adam Tyler is. He's a gay man struggling to survive in a toxic environment where anyone who falls into a minority group is ridiculed and bullied. And yet he's a strong person, using his standoffishness as a defence mechanism. I really enjoyed how he strengthened relations with his colleagues as the story progressed.
The book is set in Sheffield and, as a Sheffielder I loved that. It's always such a delight to recognise the backdrop to a story. The small village in the Peak District that features strongly was also portrayed perfectly. The sense of everybody knowing everything about you really came through and I was enthralled as everything unravelled.
At 430 pages this is not a short book but I raced through it. The plotting is superb. Russ Thomas is so skilled at building up the story without giving anything away, to the extent that I was totally pulled into the unfolding events with not a clue where any of it was heading, right the way up to the denouement which elicited a "what?!" from me. I had no idea!
I suppose you could call Firewatching a police procedural. It's mostly about the police investigations, with added input from two elderly ladies who live in the village. But where some police procedurals seem to be to be rather dull, this one is so alive with tension and intrigue it's practically on fire (see what I did there?).
In case you hadn't guessed, I thought this book was an absolute cracker. I couldn't put it down and found it thoroughly engrossing. I'm now counting down to book two, Nighthawking.
---
---
RUSS THOMAS was born in Essex, raised in Berkshire and now lives in Sheffield. After a few 'proper' jobs (among them: pot-washer, optician's receptionist, supermarket warehouse operative, call-centre telephonist, and storage salesman) he discovered the joys of bookselling, where he could talk to people about books all day. Firewatching is his debut novel.