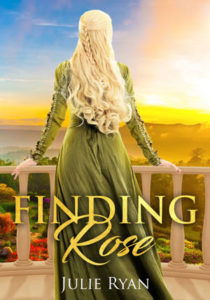 ShortBookandScribes #BookReview – Finding Rose by Julie Ryan @julieryan18
As it's 100 years today since the end of World War 1, I wanted to read something that had a relevant theme running through it. I'd like to thank Julie Ryan for sending me her book, Finding Rose, to read and review. Whilst it doesn't have a heavy focus on the war, it does feature a strand set during WW1.
When three sisters, Ginny, Sally and Molly are brought together at their father's hospital bed, they are forced to confront not only the prospect of a future without him but also the secrets of the past that have kept them apart.
Their father, Eddie Matthews, drugged up on morphine, seems to be rambling but could he in fact be reliving previous lives as a Tudor monk and as a soldier on the Front in WW1? Struggling to speak he reveals that he has a secret and urges his daughters to 'Find Rose'. Can the sisters put aside their differences to fulfil his last wish?
---

Is it bad that the first thing that drew me to this book was the cover image? I'm seriously coveting that hair! But a very close second was the blurb which intrigued me so much. I thought the idea of a man on his deathbed, possibly reliving his lives as a Tudor monk and as a WW1 soldier, sounded fascinating.
We have three sisters, Ginny, Sally, Molly. There are the usual sibling dynamics, with Ginny, as the eldest, being quite dominant. Molly, the youngest is fairly submissive, whilst Sally, as the middle child, ends up trying to please everyone. When the book begins their dad, Eddie, is in hospital and is expected to pass away fairly soon. But it's clear something is preying on his mind and his final words are that the sisters should "find Rose".
This present day storyline is the most prominent but we also follow the story of William and Rose in Tudor times, and Matthew and Rosie in 1916. The first half of the book is scene setting, introducing all the threads and letting them run alongside each other. It's only later that they are weaved together and we get to know how they are all linked, and it's only then that the sisters set about finding Rose.
I thought this was an excellent read, a story of family with an ending that surprised me. I read it in a day and found it such an easy read, and a compelling one. It's much more about the sisters and their lives than I expected. I did expect the three strands to be more linked, but it all came together in the end quite splendidly.
If you're after a time slip or historical novel then this isn't it. What this is is a book about relationships, finding yourself, repairing fractured connections, with hints of the past coming into play. I thought it was warm-hearted and a really satisfying read.
---

Julie Ryan was born in a small mining village in South Yorkshire. Not venturing too far from home, she studied French Language and Literature at Hull University, where she also trained as a teacher. Then the wanderlust kicked in and she lived and worked in France, Poland, Thailand and Greece. This broadening of the mind has had an enormous impact on her writing. She now lives in rural Gloucestershire with her husband, son and dippy cat with half a tail. She is a bookaholic with a one-click addiction.
Her Greek Island Mystery series includes 'Jenna's Journey', 'Sophia's Secret' and 'Pandora's Prophecy.' 'Callie's Christmas Countdown', a chick-lit humourous romance, is a new departure for her. Her latest book, Finding Rose, is a contemporary romance with a strong historical link to both the Tudor Court and the battlefields of the Somme.