ShortBookandScribes #BookReview – Finding Love at the Christmas Market by Jo Thomas
It's always a source of great delight when I read a new Jo Thomas book. Today I'm reviewing Finding Love at the Christmas Market. The copy of the book is my own.
---

---
Residential-home caterer Connie has had one online-dating disaster too many. Hurt in the past and with her son to consider, now she's feeling hesitant. Then one of Connie's residents sets her up on a date at a beautiful German Christmas market – with the promise she'll take a mini-bus full of pensioners along with her…

Amongst the twinkling lights and smell of warm gingerbread in the old market square, Connie heads off on her date with a checklist of potential partner must-haves. Baker Henrich ticks all the boxes, but when Connie meets Henrich's rival William, she starts to wonder if ticking boxes is the answer.

Will Connie's wish for love this Christmas come true, and if so – with who?
---

---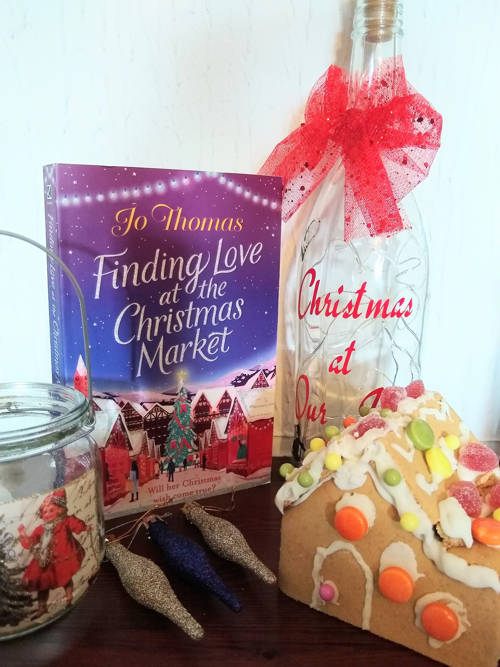 Jo Thomas is an author I know I can rely on. I can pick up one of her books without knowing too much about it with the confidence that I will love it, and that it will have her particular blend of romance and travel combined.
Finding Love at the Christmas Market is a gorgeous wintery and very festive read. As the story begins, Connie is about to drive a group of pensioners from the care home she provides meals for, to visit a Christmas market in a small town in Germany. She's also going to meet Heinrich, the man she's been talking with online. It's clear that everyone is a bit down. Christmas is coming and nobody seems very pleased about it.
In the midst of the atmospheric market setting, everybody starts to grow and find out what they really want from life. Is Heinrich right for Connie? Why does she seem drawn to William and his little bakery? Arguably, the biggest transformation happens to Pearl and the others from the home, who have become too used to sitting alone in their rooms which has made them very lonely.
This is such a beautiful story. Jo Thomas has captured hopes and dreams and poured them into the pages of this book. I must admit to a few tears as Connie helped the residents to achieve their wishes, and I just hoped she would be able to do the same for herself.
As always, the author has absolutely brought the setting to life. Everything from the little alleyway from which Connie peeps as she's waiting for her first meeting with Heinrich, to William's shop with its dusting of icing sugar, the smell of the hot chocolate and gingerbread in the air, the sound of skates on the ice rink, (I could go on!) jumps out almost in 3D. This really is a magical tale full of warmth, friendship, camaraderie, baking and love. As usual when I've read a Jo Thomas book, I want to visit a German Christmas market now!
Finding Love at the Christmas Market is a glorious, romantic, foodie Christmassy delight and definitely one of my favourites by this author.
---
---
Jo Thomas worked for many years as a reporter and producer, first for BBC Radio 5, before moving on to Radio 4's Woman's Hour and Radio 2's The Steve Wright Show.
In 2013 Jo won the RNA Katie Fforde Bursary. Her debut novel, The Oyster Catcher, was a runaway bestseller in ebook and was awarded the 2014 RNA Joan Hessayon Award and the 2014 Festival of Romance Best Ebook Award. Jo lives in the Vale of Glamorgan with her husband and three children.