ShortBookandScribes #BookReview – Find Her First by Emma Christie #BlogTour
It's my stop on the blog tour for Find Her First, Emma Christie's second book. My thanks to Maddie at Welbeck for the proof copy and for the place on the tour. Find Her First is available now in paperback and eBook.
---

---
WHERE IS STEF CAMPBELL? AND WHO CAN BE TRUSTED TO BRING HER HOME? 

Paramedic Andy Campbell has a secret he can't tell anyone, not least the police.

But when his missing wife's image is found at the home of a suspected killer, detectives start asking questions, and they're not the only ones . . .

The race for the truth leads them far from their Edinburgh home.

But who will find her first, and will they save her life or take it?
---

---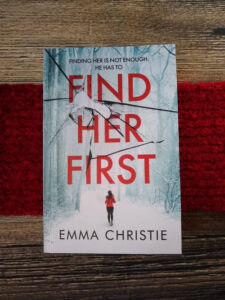 Andy Campbell and his wife, Stef, are paramedics. Or Stef was until she went missing. Where is she? Matters are complicated when Stef's ID card is found in the home of a serial criminal. Andy has to find her.
Having read Emma Christie's first novel, The Silent Daughter, I know she is adept at creating a twisty storyline with the unexpected popping up at every turn. Whilst I guessed some of what happened in Find Her First, she still managed to throw a few curveballs at me. The characters are really well-drawn and three-dimensional. I felt like I knew them and cared about them, whilst wondering what they were hiding.
A return to the Portobello setting was welcome. Christie describes it beautifully as a backdrop to Andy's search, to his home life with Stef and to life as a paramedic. I liked the insight into the job and the way it can affect a person.
I enjoyed Find Her First. It's a clever story which built up pace from the scene-setting beginnings through to the reveals at the end. Emma Christie is an excellent writer, combining the emotional pull of love and life with the exciting intrigue of a psychological thriller. I look forward to seeing what she comes up with next.
---

---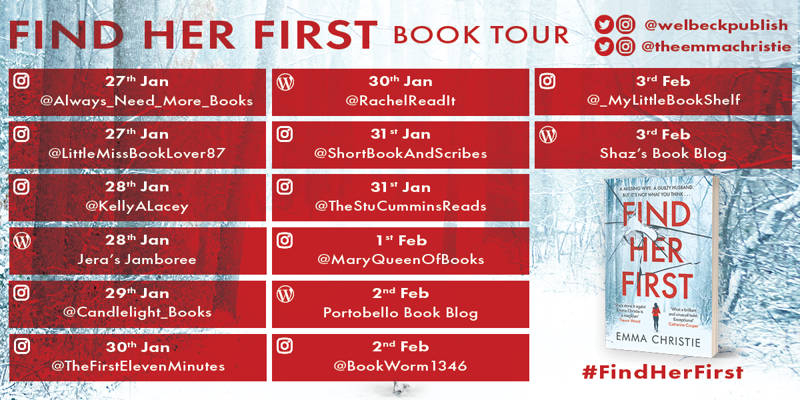 ---
---
Emma Christie is a former news reporter. Her debut novel, The Silent Daughter was a great success and continues to sell well.