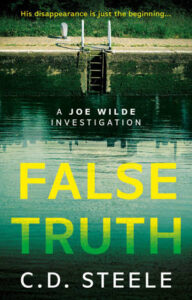 ShortBookandScribes #BookReview – False Truth by C.D. Steele
My review today is of False Truth by C.D. Steele which is available now in paperback and eBook. My thanks to the author for sending a copy for review purposes.
---

---
Private Investigator and former MI6 agent Joe Wilde is hired by Sally Devlin to investigate her son's disappearance. Liam Devlin was a rising football star. His car was found abandoned at Lea Bridge in Hackney, a known suicide spot, six weeks prior. With help from friend and retired MI6 Data Technician Mark Thompson, Joe uncovers a huge secret in Liam's life. Putting the pieces together, he starts to suspect that this case is far more complex than he originally envisioned. Falling ever deeper into his own investigations, Joe meets with the detective in charge of the case, D. I. Carl Whatmore, who does not take kindly to Joe getting involved. As Joe and D. I. Whatmore go head-to-head in their own investigations, more lives are put in danger. But who will crack the case? Only time will tell…
---

---
False Truth is a short book with quite an adventure packed between the pages. Joe Wilde is a PI now, although he used to work for MI6. As such, he's an excellent private investigator. Sally Devlin asks him to look into the sudden disappearance (perhaps suicide) of her son, Liam, a footballer with a bright future ahead of him. Joe's investigations become complicated and dangerous, a lot more so than his usual fare of tailing errant husbands.
This is quite the ride, an easy to read and exciting story. I liked the fact it wasn't overlong and I can imagine more of these similar escapades for Joe. His MI6 past means he's very savvy, and knows how to handle himself and what to look for which I think gives him quite an edge. He's also a likeable protagonist and I think he could have quite an interesting back story.
I did feel the dialogue was a bit stilted at times but it didn't affect my enjoyment of this fast-paced read. There are some unexpected events and a clever ending which kept up the intrigue and kept my interest in the story. I suspect this could be the first in a Joe Wilde series and False Truth is certainly a very good start.
---
---
C. D. Steele works as an Executive Offer in the Civil Service. He has a degree in Recreation Management and lives in Bangor, County Down. This is his first novel.