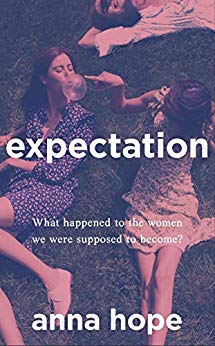 ShortBookandScribes #BookReview – Expectation by Anna Hope @DoubledayUK #RandomThingsTours #BlogTour #ExpectationBook
I'm so very pleased to be reviewing Expectation by Anna Hope today. It's a wonderful read. My thanks to Anne Cater from Random Things Tours for the place on the blog tour and to Alison Barrow from Doubleday for sending me a proof copy of the book for review purposes.
---

Hannah, Cate and Lissa are young, vibrant and inseparable. Living on the edge of a common in East London, their shared world is ablaze with art and activism, romance and revelry – and the promise of everything to come. They are electric. They are the best of friends.

Ten years on, they are not where they hoped to be. Amidst flailing careers and faltering marriages, each hungers for what the others have. And each wrestles with the same question: what does it take to lead a meaningful life?

The most razor-sharp and heartbreaking novel of the year, EXPECTATION is a novel about finding your way: as a mother, a daughter, a wife, a rebel.
---
I was a big fan of Anna Hope's first book, Wake, but have yet to catch up with The Ballroom. However, with Expectation she has cemented her position in the list of those authors whose books I would gladly pick up without knowing anything about them.
This is a quiet novel. There are no seismic events, no murders, nothing out of the ordinary happens and yet it's full of human life. I say nothing out of the ordinary happens, but for the characters within the things that happen to them are far from ordinary.
Those characters are Hannah, Cate and Lissa. Three friends, but Hannah is the one that links them all. She met Cate at school and Lissa at university and the three have bonded over the years. We follow them through the years with a look at pivotal times in their lives, and also 2010 when most of the story takes place. We see how their lives came together and then diverged, their careers, their relationships, their children, their parents.
Put simply, this is a story about life. All those ups and downs, however small or large, and how they can affect everything else. It's about the weight of expectation versus the harsh realities of life.
These women are about my age, those middle years when you can look back and learn from what's gone before, and have the rest to look forward to and hopefully make the best of, and I found a certain amount of empathy with them. Cate, the new mother, who is struggling to cope; Hannah, desperate for a baby; Lissa, a jobbing actress, barely making enough to cover her rent. I thought they were all incredibly well-drawn, fascinating yet normal people.
It's hard to really put into words how immersive this book is. I read the last 200 pages in one sitting and just didn't want to leave it for a minute. I would say a certain amount of concentration is required at the beginning because the narrative jumps around a bit and I had to think carefully to pull the strands of each woman's life together, but then I became fully entrenched in their stories as if I knew them, knew their foibles, their likes, their dislikes, their feelings.
This is the kind of book I love, a slice of life story full of heart and emotion. I did have a big lump in my throat as the end approached. Only an exceptional writer can write this sort of book and make it unputdownable. Anna Hope has achieved that for me.
---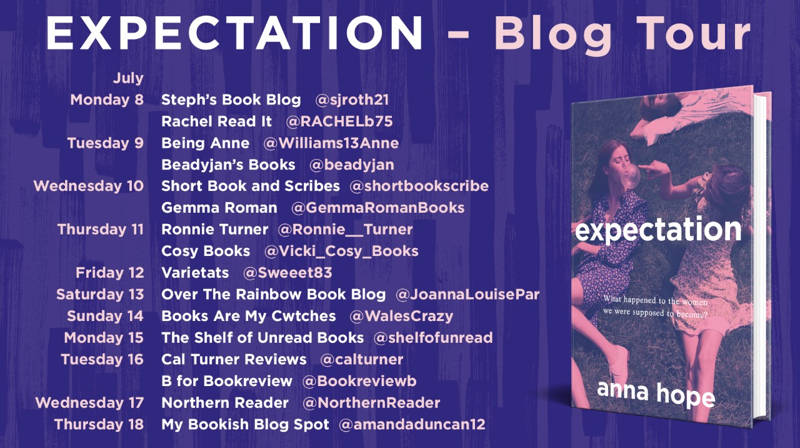 ---

ANNA HOPE studied at Oxford University and RADA. Her contemporary fiction debut, Expectation, explores themes of love, lust, motherhood, and feminism, while asking the
greater question of what defines a generation.
She lives in Sussex with her husband and young daughter.