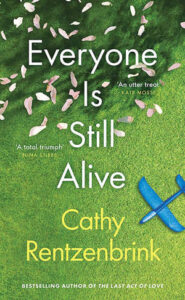 ShortBookandScribes #BookReview – Everyone is Still Alive by Cathy Rentzenbrink
I'm sharing my thoughts about Everyone is Still Alive by Cathy Rentzenbrink today. It's a truly brilliant read. My thanks to Leanne Oliver from Phoenix Books for the review copy of the book. It's published in hardcover, eBook and audiobook on 8th July.
---

---
It is summer on Magnolia Road when Juliet moves into her late mother's house with her husband Liam and their young son, Charlie. Preoccupied by guilt, grief and the juggle of working motherhood, she can't imagine finding time to get to know the neighbouring families, let alone fitting in with them. But for Liam, a writer, the morning coffees and after-school gatherings soon reveal the secret struggles, fears and rivalries playing out behind closed doors – all of which are going straight into his new novel . . .

Juliet tries to bury her unease and leave Liam to forge these new friendships. But when the rupture of a marriage sends ripples through the group, painful home truths are brought to light. And then, one sun-drenched afternoon at a party, a single moment changes everything.

The fiction debut from Sunday Times bestselling author Cathy Rentzenbrink, Everyone Is Still Alive is funny and moving, intimate and wise; a novel that explores the deeper realities of marriage and parenthood and the way life thwarts our expectations at every turn.
---

---
Cathy Rentzenbrink's first foray into fiction is an absolute triumph, not that I doubted it because having read her non-fiction I already knew what a fantastic writer she is. Everyone is Still Alive is completely my kind of read, totally character driven and based around people simply going about their everyday business.
Juliet and Liam, with their son, Charlie, have just moved into Juliet's late mum's house on Magnolia Road. In so doing, they find themselves becoming entrenched in street life, all the children's parties and the mothers continually trying to outdo each other in their quest to live up to Sarah, who seems to be Queen Bee. Poor Helen is a pale imitation, struggling in her marriage to Dan, whilst Lucy seems almost predatory, especially around Liam. Liam meanwhile is attempting his second novel and decides that writing about the residents of Magnolia Road is a good idea!
This novel is perfectly observed. The author has got each characterisation spot on and it's also full of very recognisable and identifiable events such as the hell of World Book Day when everybody else seems to have made some amazing costume for their kids and you haven't. The characters in this book could be any one of us and that's what I loved about it.
There is plenty of humour to be had (I guffawed a lot when reading the chapter from the point of view of Dan, Helen's husband), but it's also moving (Juliet's grief) and offers so much food for thought. It plays on the insecurities of parenthood, marriage, and friendship, the guilt of both the working parent and the stay-at-home parent. It's a beautiful and sensitively written portrayal of real life in all its many glories. I thought it was superb.
---
---
Cathy Rentzenbrink grew up in Yorkshire, spent many years in London, and now lives in Cornwall. She is the Sunday Times bestselling author of The Last Act of Love, which was shortlisted for the Wellcome Prize, and the acclaimed memoirs A Manual for Heartache and Dear Reader. Everyone Is Still Alive is her first novel