ShortBookandScribes #BookReview – Escape to the French Farmhouse by Jo Thomas
I am a huge fan of Jo Thomas and her gorgeous books so I'm really pleased to be sharing my thoughts about Escape to the French Farmhouse today. My thanks to Ruth Richardson from Transworld for sending me a proof copy of the book for review purposes.
---

---
Can Del find her recipe for happiness?

Del and her husband Ollie moved to a beautiful village in Provence for a fresh start after years of infertility struggles. But six weeks after they arrive, they're packing the removal van once more. As Del watches the van leave for England, she suddenly realises exactly what will make her happier…a new life in France – without Ollie.

Now alone, all Del has is a crumbling farmhouse, a mortgage to pay and a few lavender plants. What on earth is she going to do? After discovering an old recipe book at the market run by the rather attractive Fabian, Del starts to bake. But can her new-found passion really help her let go of the past and lead to true happiness?

A heart-warming tale about reclaiming your life, set amongst the lavender fields of Provence. Perfect escapism from the author of Late Summer in the Vineyard and The Honey Farm on the Hill.
---

---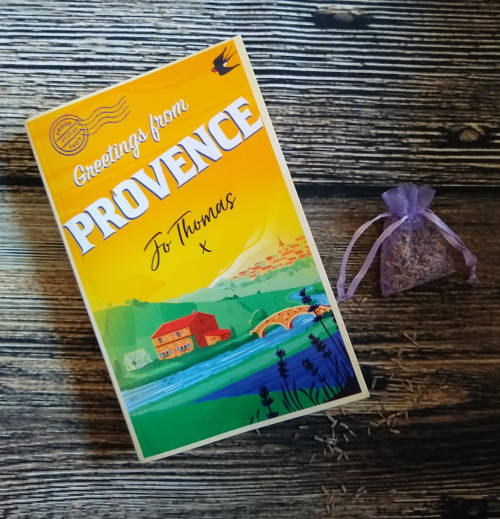 Every time I read a Jo Thomas book I am full of praise as she's one of my favourite authors. Escape to the French Farmhouse is no exception to this and I thought it was a wonderful story.
Del and her husband, Ollie, moved to France, like so many before them, for a new life. After just six weeks, they've given up and decided that it's not for them after all. They're on their way home. Except……at the last minute Del changes her mind and decides to stay, on her own, accepting her marriage is over and it's time to make (another) new start.
In typical Thomas fashion, we are thrust straight into the lives of the characters. As the story is told in the first person it really feels like I got to the heart of Del's feelings. She's a lovely, kind lady and the perfect friend. I loved how she threw herself into French life once Ollie went home and started to build a future for herself at her lavender farm, Le Petit Mas de la Lavande. Meeting new people and learning new skills (how to cook with lavender!) really bring her back to life.
No matter what the subject, Jo Thomas always manages to transport me to a new location and make me want to join in with whatever she has her characters doing. This time it was growing lavender and learning to cook with it. The massive skill of this author is that she manages to write so evocatively and I could practically smell the lavender, taste the biscuits and macarons that she made with it, and put myself right there in Provence, strolling on the riverside, eating at Henri's bistro and shopping at Fabien's brocante.
As usual Thomas has written a gorgeous romantic hero in Fabien. I loved him! She's also spun a spellbinding story of love, new beginnings, friendship and survival. I feel like I had my own escape to the French farmhouse and I adored every moment I spent there. If you want to fully immerse yourself in a truly lovely romance and be whisked off to a beautiful setting then look no further.
---
---
Jo Thomas worked for many years as a reporter and producer, first for BBC Radio 5, before moving on to Radio 4's Woman's Hour and Radio 2's The Steve Wright Show. In 2013 Jo won the RNA Katie Fforde Bursary. Her debut novel, The Oyster Catcher, was a runaway bestseller in ebook and was awarded the 2014 RNA Joan Hessayon Award and the 2014 Festival of Romance Best Ebook Award. Jo lives in the Vale of Glamorgan with her husband and three children.