ShortBookandScribes #BookReview – End of Story by Louise Swanson
End of Story by Louise Swanson is published by Hodder & Stoughton and is out now in hardcover, ebook and audiobook. My thanks to Kimberley Nyamhondera for the proof copy.
---

---
Too much imagination can be a dangerous thing

It has been five years since writing fiction was banned by the government.

Fern Dostoy is a criminal. Officially, she has retrained in a new job outside of the arts but she still scrawls in a secret notepad in an effort to capture what her life has become: her work on a banned phone line, reading bedtime stories to sleep-starved children; Hunter, the young boy who calls her and has captured her heart; and the dreaded visits from government officials.

But as Fern begins to learn more about Hunter, doubts begin to surface. What are they both hiding?

And who can be trusted?
---

---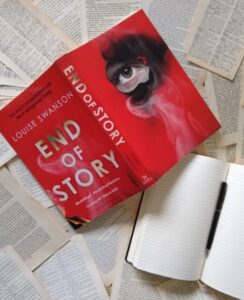 Imagine a life in which fiction is banned. You're not allowed to read it, write it, tell bedtime stories to your children. The only thing you can read is non-fiction, but when everything is being manipulated how do you even know what is fact and what is not?
The premise for Louise Swanson's book, End of Story, is a shocking one, especially for a book lover. There were times that I was able to imagine all too well how it would feel to have my beloved books taken away from me, such is the power of the writing in this book. Fern Dostoy, the main character, was a renowned author, a prize-winning one, and she had had her writing, and everything else, taken from her. Living in a soulless house and working a joyless job, her only glimpses of joy now are her exchanges with the Fine-Fayre tea seller and with Hunter, a young boy to whom she reads bedtime stories via a banned phone service.
I don't generally go for dystopian fiction but I knew from this author's books as Louise Beech that there was very likely to be a strong emotional element and it was here in spades. Swanson puts us right there in a world only slightly in the future but in which so much has changed (it reminded me how fast technology is evolving). There is a lot lying beneath the surface of this book just waiting to be discovered and it's very cleverly plotted with elements I really didn't expect.
End of Story is a book full of dangerous situations and the consequences of defying the rules, but it's also a book of grief and loss. This is not a fast-paced thriller but a unique and inventive novel in which the insidious horror of Fern's situation snakes its way into your psyche and doesn't let go. I doubt I will forget this book in a hurry, both for the terrifying menace and for the last section which turns everything on its head.
---
---
Louise Swanson is the penname of bestselling author Louise Beech, who has published eight novels with Orenda Books. Her work has previously been longlisted for the Not the Booker and Polari prizes and shortlisted for the Romantic Novel Award. She won Best's Book of the Year with her 2019 psychological thriller Call Me Star Girl. In April 2023, Louise will also publish her memoir Eighteen Seconds with Mardle Books. She blogs regularly on louisebeech.co.uk, and is on Twitter under the name @LouiseWriter.