ShortBookandScribes #BookReview – Eleven Liars by Robert Gold
Eleven Liars by Robert Gold was published by Sphere on 30th March 2023 in hardcover, ebook and audiobook. My thanks to Emma Dowson at edpr for my extra special personalised proof!
---

---
Journalist Ben Harper is on his way home when he sees the flames in the churchyard. The derelict community centre is on fire. And a boy is trapped inside.

With Ben's help the boy escapes, only to flee the scene before he can identified. Now the small town of Haddley is abuzz with rumours. Was this an accident, or arson?

Then a skeleton is found in the burnt-out foundations.

And when the identity of the victim is revealed, Ben is confronted with a crime that is terrifyingly close to home. As he uncovers a web of deceit and destruction that goes back decades, Ben quickly learns that in this small town, everybody is guilty of something. And that even in the most unexpected of places, evil lurks . . .
---

---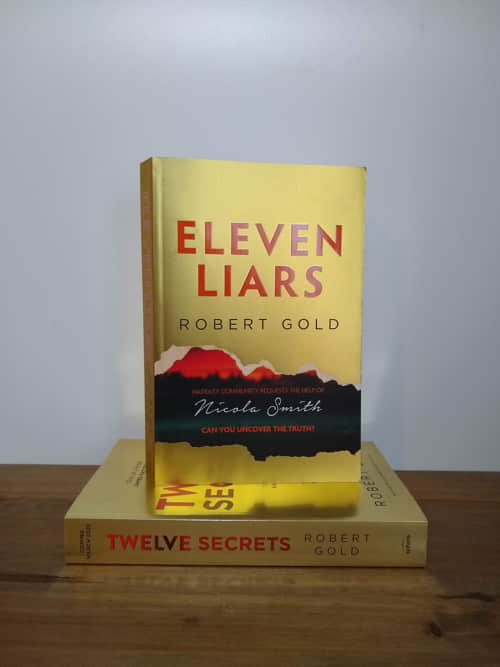 "In a small town everyone has something to hide". Never more true than in the small town of Haddley where everybody seems to know everybody else's business. When I read Twelve Secrets last year I was pleased to note that it was going to be the first in a series to feature journalist, Ben Harper. Eleven Liars is the second book and I really hope there are going to be more.
The book begins with a fire in a derelict community centre in church grounds. Ben is first on the scene and helps somebody to escape and it seems that's the end of it…until a skeleton is found. After that, secrets are unearthed in Haddley at a rapid rate.
I found this to be a really compelling crime novel. With Ben being a journalist, you can't exactly call it a police procedural, but his sidekick from the first book plays another big role and she is PC Dani Cash, so we're able to see things from Ben's investigative journalist's perspective as well as from within the police force. Whilst some of what happens links back to Twelve Secrets, everything was explained in sufficient detail for me to remember it and get totally stuck into Eleven Liars.
I liked how so much of the story was interlinked but it only came to light as developments were made in the investigation into the fire. As the story progressed there were loads of twists and turns, none of which I saw coming, and I found it to be a really well-plotted book with fairly short chapters that kept my interest.
I think Eleven Liars is my favourite of the books so far. The plot is intricate and I loved being immersed in it and trying to work out what was happening and who the culprits were (because this story doesn't begin and end with just the fire at the community centre). There are some really interesting characters (a particular favourite was Pamela) and going by the end of the book, a return visit to Haddley is definitely needed as one character in particular is hiding something! I have my fingers firmly crossed.
---
---
Originally from Harrogate in North Yorkshire, Robert Gold began his career as an intern at the American broadcaster CNN, based in Washington DC. He returned to Yorkshire to work for the retailer ASDA, becoming the chain's nationwide book buyer. He now works in sales for a UK publishing company.
Robert now lives in Putney and his new hometown served as the inspiration for the fictional town of Haddley in his thrillers, Twelve Secrets, an Irish Times bestseller, and Eleven Liars, publishing in 2023.