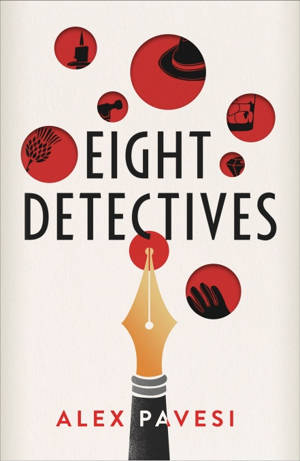 ShortBookandScribes #BookReview – Eight Detectives by Alex Pavesi
My review today is of Eight Detectives by Alex Pavesi, a very original detective story. My thanks to Ellie Hughes of Michael Joseph for sending me the amazing proof in all its slipcase glory for review purposes.
---

---
All murder mysteries follow a simple set of rules.

Grant McAllister, an author of crime fiction and professor of mathematics, once sat down and worked them all out.

But that was thirty years ago. Now he's living a life of seclusion on a quiet Mediterranean island – until Julia Hart, a sharp, ambitious editor, knocks on his door. His early work is being republished and together the two of them must revisit those old stories.

An author, hiding from his past, and an editor, probing inside it.

But as she reads the stories, Julia is unsettled to realise that there are parts that don't make sense. Intricate clues that seem to reference a real murder.

One that's remained unsolved for thirty years . . .

If Julia wants answers, she must triumph in a battle of wits with a dangerously clever adversary.

But she must tread carefully: she knows there's a mystery, but she doesn't yet realise there's already been a murder . . .
---

---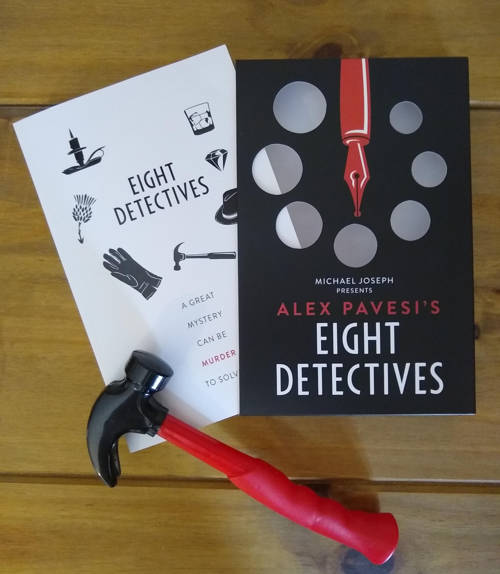 Eight Detectives is one of the most highly anticipated books of the year, by me and many others. I was intrigued by the idea of the characters solving a mystery but aside from that I really wasn't sure what to expect.
What I got was a very well-plotted, tightly woven murder mystery style novel. I was actually in awe of the plotting that the author must have put into it. It's a story within a story, with seven standalone tales written by Grant McAllister contained within the main story of Julia, an editor who has sought out Grant with a view to republishing his work. The overall premise is one of there being a particular set of rules that all murder mysteries must follow.
I enjoyed the standalone stories and thought they were well done, but as someone who is not a fan of the short story, my attention did start to wane as I worked my way through them. However, I did actually prefer them to the sections where Julia and Grant were going through the set of rules between each one. I must admit to finding those sections quite hard to follow, especially when mathematics came into play.
I guess it comes down to the fact that maybe this just wasn't my kind of book. Along with the fact I'm not a short story fan, I'm also not much of a detective story fan, especially Golden Age ones. I think this is a clever and cunning sort of story, very original and it will appeal to those who really enjoy reading mystery stories. I'm sorry to say that doesn't seem to be me, but I do think that Alex Pavesi has done something quite special with Eight Detectives.
---
---
Alex Pavesi lives in London, where he writes full time. He previously worked as a software engineer and before that studied mathematics to PhD level, during which time he worked as a part-time bookseller. Eight Detectives is his first novel.