ShortBookandScribes #BookReview – Echo Hall by Virginia Moffatt
Welcome to my stop on the blog tour for Echo Hall by Virginia Moffatt. This is a book I have had on my shelves since it was published so I jumped at the chance to sign up for the tour. I'm so pleased I did. My thanks to Emma Welton of damppebbles Blog Tours for the place on the tour.
---

---
Set against the backdrop of three wars – the 1991 Gulf War, World War 2 and World War 1 – the novel follows the fortunes of three women who become involved with the Flint family, the owners of Echo Hall.

Phoebe Flint visits Echo Hall in 2014, where she follows in her mother's footsteps to uncover the stories of a house 'full of unhappy women, and bitter, angry men'.

Ruth Flint arrives at Echo Hall in 1990 – newlywed, pregnant, and uncertain of her relationship with her husband, Adam. Ghostly encounters, a locked door, and a set of photographs pique her curiosity. But Adam and his grandfather refuse to let her investigate. And her marriage is further strained, when Adam, a reservist, is called up to fight in the Gulf War.

In 1942, Elsie Flint is already living at Echo Hall with her children, the guest of her unsympathetic in-laws, whilst her husband Jack is away with the RAF. Her only friend is Jack's cousin Daniel, but Daniel is hiding secrets, which when revealed could destroy their friendship for good.

Rachel and Leah Walters meet Jacob Flint at a dinner party in 1911. Whilst Leah is drawn to Jacob, Rachel rejects him leading to conflict with her sister that will reverberate through the generations.

As Ruth discovers the secrets of Echo Hall, she is able to finally bring peace to the Flint family, and in doing so, discover what she really needs and wants.

Echo Hall is a novel about the past, but it is very much a novel of the now. Does history always have to repeat itself, or can we find another way?
Purchase Links:
Published in paperback, audio and digital formats by Unbound on 28th November 2017
---

---
Echo Hall is exactly my kind of read. It has multiple timelines, mysteries and secrets, and family dramas at its core. The hall itself is the constant throughout it all, looming over its residents, the scene of many troubles for the Flint family.
There are three different timeframes all of which are set around times of war: the Gulf War, World War II and the First World War. It is Ruth Flint, newly married to Adam, who goes with him to the hall and meets his grandfather, Jack. She finds herself attempting to put to rest the ghosts of years gone by.
What I particularly liked about this book were the little markers throughout the sections, threads that pull each one together and events that seem to echo through each age. The plotting is sublime. Virginia Moffatt creates such intrigue, not by revealing shocking twists but by dropping subtle hints at strategic points. I just loved spotting those details that run through the generations. The tagline refers to history repeating itself and that is definitely a major theme in the novel.
I also really enjoyed the way the story is constructed, working backwards with Ruth's story in the 1990s, then going back to the 1930s/40s focusing on two members of Adam's family in alternate viewpoints, then an epistolary section starting in 1911, then full circle back to the 1990s. I like a non-linear story where I have to work a bit harder putting all the pieces together.
I thought it was a fabulous and brooding read. It drew me right into the lives of the Flints and the corridors of Echo Hall.
---

---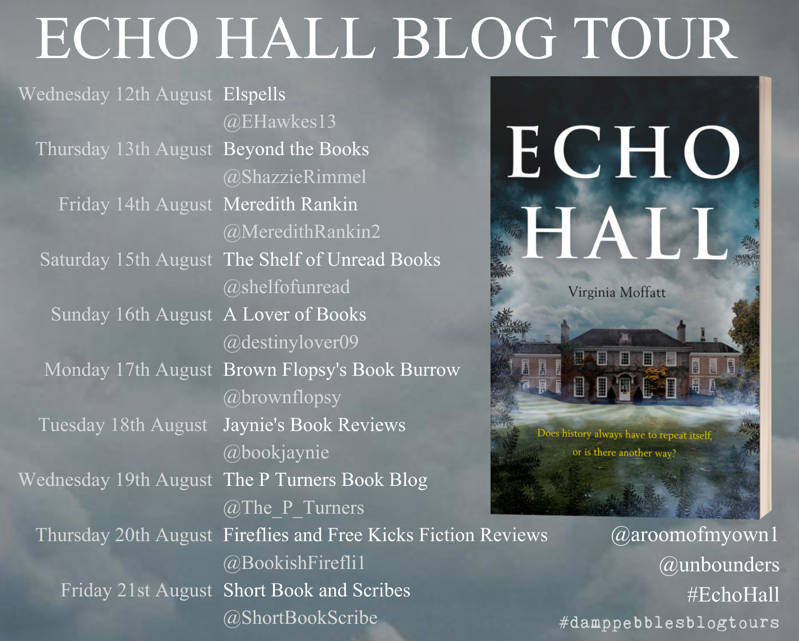 ---
---
Virginia Moffatt was born in London, one of eight children, several of whom are writers. 'The Wave' is her second novel. Her previous publications are 'Echo Hall' (Unbound) and 'Rapture and what comes after' (Flash fiction collection published by Gumbo Press). She also writes non fiction. Virginia is married to Chris Cole, Director of Drone Wars UK. They have two daughters at University and a son still living with them in Oxford.