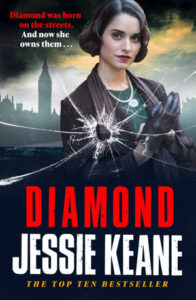 ShortBookandScribes #BookReview – Diamond by Jessie Keane #BlogTour #JessiesGang
Welcome to my stop on the blog tour for Diamond by Jessie Keane. My thanks to Courtney Jefferies at EDPR and the publishers for the place on the tour and the review copy of the book. Diamond is out now, published by Hodder in hardback, priced £14.99.
---

---
It's the early 20th century, and a desperate young girl changes her name and flees the  confines of her brutal, dominating gangland family in London.

Now calling herself 'Diamond Dupree', she goes to Paris to become an artist's model but the world there is brutal and cutthroat and she soon falls on hard times. When she manages to escape at the end of the First World War, she leaves behind a mystery – and a dead man.

Back home in London, she reluctantly re-joins the Soho family 'firm' she'd once been glad to leave behind. Having grown tougher during her time in Paris, she soon becomes a force to be reckoned with; a feared and respected gangland queen. But then she meets Richard Beaumont, the youngest son of a wealthy aristocratic family, and the prospect of a different life unfolds.

But how long can Diamond avoid the long arm of the law?
And will her crimes finally catch up with her?

For fans of Martina Cole and Kimberley Chambers, and lovers of 'Peaky Blinders',
this is epic historical crime fiction at its most compelling.
---

---
I don't think I'd ever read a historical gangland crime story before I picked up Diamond. Set at the beginning of the 20th century, Diamond Butcher has grown up with the constant backdrop of the feud between her family and the Wolfe family, a bitter tit for tat battle with shocking consequences. Fleeing all she's ever known, she heads for Paris and has a torrid time there before returning to London and rising up in the gangland ranks herself.
Diamond felt like a sweeping story, taking in what felt like enough drama to cover several lifetimes. It's a chunky read but it's fast-paced, helped by short chapters which kept the action moving. I liked Diamond's sassy attitude and the way she learned to stand up for herself and her family. She's a plucky survivor and I was hoping all the way through for a good and safe outcome for her. The baddies are well-drawn too and I certainly wouldn't want to be anywhere near them or in the middle of one of their fights.
This book is non-stop action from beginning to end. It's gritty and hard-hitting with characters to care about. I can imagine more books featuring Diamond, taking forward the partnerships that she made in this one, but even if that doesn't happen I thought the ending was just right.
---

---
---
---
Dubbed 'Queen of the Underworld', Jessie Keane is of Romany gypsy stock. She was born rich, in the back of her gran's barrel top wagon, and her family thrived until their firm crashed into bankruptcy and became poor. Her father died when she was a teenager and she fled to London to escape grim reality, finding there a lifelong fascination with the criminal underworld and the teeming life of the city.
Twice divorced and living in a freezing council flat, she decided to pursue her childhood aim to become a writer. She sold her wedding dress to buy a typewriter and penned her first Annie Carter book, Dirty Game.
This was followed by five more Annie Carter books, all Sunday Times bestsellers, then Ruby Darke arrived in Nameless, Lawless and The Edge. Jessie's stand-alone novels include Jail Bird, The Make, Dangerous, Fearless, The Knock and The Manor.