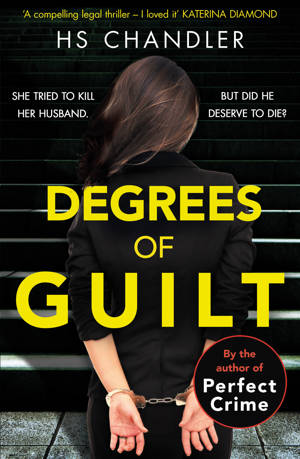 ShortBookandScribes #BookReview – Degrees of Guilt by HS Chandler @HSCinkpen @TrapezeBooks #BlogTour #CompulsiveReaders
I have been desperate to read Degrees of Guilt for ages so I'm really pleased to be able to share my review today as part of the blog tour. My thanks to Tracy Fenton from Compulsive Readers for the place on the tour. I bought my own copy of the book.
---
When you read this book, you will think you know every twist in the tale.

Maria is on trial for attempted murder.

She has confessed to the crime and admits that she wanted her husband dead.

Lottie is on the jury, trying to decide Maria's fate.

She embarks on an illicit affair with a stranger, and her husband can never find out.

You will think you know who is guilty and who is innocent.

You will be wrong.
---

I have been longing to read Degrees of Guilt, not least because although this is HS Chandler's first book, she's also known as Helen Fields and I absolutely love her series of crime novels under that name. Degrees of Guilt is a different story though, a courtroom drama. I loved it!
As the story begins, Maria Bloxham has just bludgeoned her husband around the head. She calmly calls the police and tells them she wanted to kill him. Already this is a brilliant and inspired start. What led this quiet and unassuming woman to kill a popular man?
We then follow her court case, which forms the whole structure of the novel. Whilst Maria's story and subsequent trial make up one strand, the other strand is that of the jurors, the 12 people who have to decide whether Maria is guilty or not. Lottie is one of those 12 and this court case could change her life just as much as it could change Maria's.
It's a fabulous read from start to finish. I loved Lottie, I really did. She started off as quite cowed, and I couldn't help but see similarities between her life and Maria's, yet by the end she had really proved that she had so much more to offer than being a wife and mother. I also found Maria to be a fascinating character as her life with Edward is revealed both to those in the courtroom and to me, the reader.
What I found particularly interesting was the dynamic between the jurors. As with any random group of people you have the overbearing ones, the timid ones, the ones that know it all (or think they do) and the genuinely nice ones. I enjoyed following their discussions and wondering how I would behave in their place. All of the supporting characters are well drawn, some I was wrong about but that's the strength of this story. It makes you think about innocence and guilt and how the lines can easily become blurred.
Degrees of Guilt is absolutely compelling reading. I read it in a day and was so pulled into the story. HS Chandler or Helen Fields? No matter the name, the quality is still outstanding. I highly recommend this book for a thought-provoking and gripping read.
---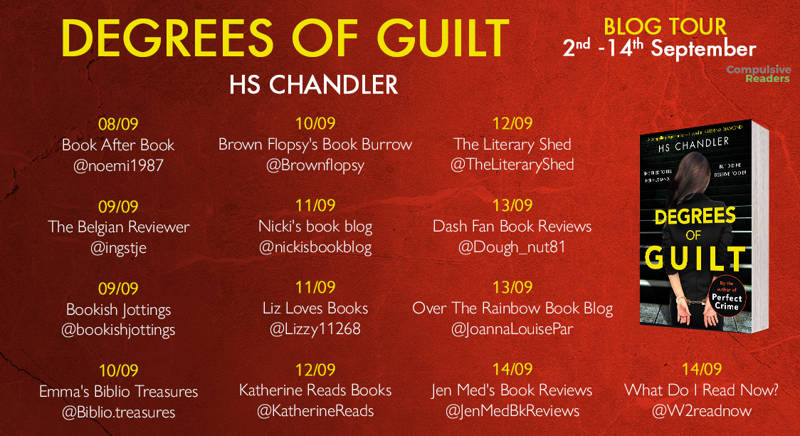 ---

A former barrister, HS Chandler is a pseudonym for bestselling crime author Helen Fields, who practised for thirteen years in both family and criminal law. Having extensively prosecuted and defended, she is an avid believer in the right to a fair trial, and in the invaluable role that juries play in the British legal system. Helen was born in Hampshire and now lives in the US.