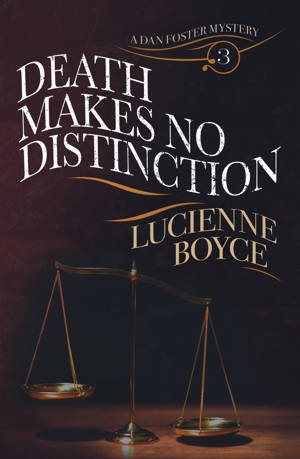 ShortBookandScribes #BookReview – Death Makes No Distinction by Lucienne Boyce @LucienneWrite @rararesources #BlogTour #HistoricalFiction
I'm very pleased to be reviewing Death Makes No Distinction by Lucienne Boyce today. My thanks to the author for sending me a copy of the book for review purposes and to Rachel Gilbey from Rachel's Random Resources for the place on the tour.

---

Two women at opposite ends of the social scale, both brutally murdered.

Principal Officer Dan Foster of the Bow Street Runners is surprised when his old rival John Townsend requests his help to investigate the murder of Louise Parmeter, a beautiful writer who once shared the bed of the Prince of Wales. Her jewellery is missing, savagely torn from her body. Her memoirs, which threaten to expose the indiscretions of the great and the good, are also missing.

Frustrated by the chief magistrate's demand that he drop the investigation into the death of the unknown beggar woman, found savagely raped and beaten and left to die in the outhouse of a Holborn tavern, Dan is determined to get to the bottom of both murders. But as his enquiries take him into both the richest and the foulest places in London, and Townsend's real reason for requesting his help gradually becomes clear, Dan is forced to face a shocking new reality when the people he loves are targeted by a shadowy and merciless adversary.

The investigation has suddenly got personal.
Purchase Links
---
This is my first book by Lucienne Boyce but I believe it is book three in the Dan Foster series. It works as a standalone well enough but there were a few relationships that I was a bit unsure about and a little explanation at the beginning would have been quite helpful to me.
The story itself is very engaging. Dan Foster is a Principal Officer of the Bow Street Runners, in other words he is an early police officer. He finds himself investigating the deaths of two women, one fairly prominent who was a former beau of the Prince of Wales, the other a young woman down on her luck. I thought the contrast between the two cases was really interesting although it's the first one that really forms the main story.
It all feels very authentic, as though I was there in both the affluent and the more seedy underbelly of London. There are lots of different aspects to the story including murder, salacious memoirs, slavery, family problems. Dan is also a boxer which I thought provided a nice rougher edge to a good policeman. He's an all round nice guy and a character with an interesting background.
This is an ideal book for those who love historical crime fiction. It's gritty with a very realistic feel to it and I enjoyed reading it.
---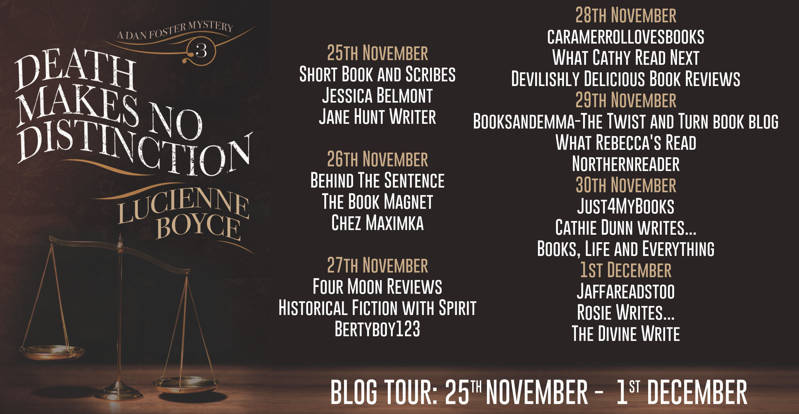 ---

Lucienne Boyce writes historical fiction, non-fiction and biography. After gaining an MA in English Literature (with Distinction) with the Open University in 2007, specialising in eighteenth-century fiction, she published her first historical novel, To The Fair Land, in 2012, an eighteenth-century thriller set in Bristol and the South Seas.
Her second novel, Bloodie Bones: A Dan Foster Mystery (2015) is the first of the Dan Foster Mysteries and follows the fortunes of a Bow Street Runner who is also an amateur pugilist. Bloodie Bones was joint winner of the Historical Novel Society Indie Award 2016, and was also a semi-finalist for the M M Bennetts Award for Historical Fiction 2016. The second Dan Foster Mystery, The Butcher's Block, was published in 2017 and was awarded an IndieBrag Medallion in 2018. The third in the series, Death Makes No Distinction, was published in 2019. In 2017 an e-book Dan Foster novella, The Fatal Coin, was trade published by SBooks.
In 2013, Lucienne published The Bristol Suffragettes, a history of the suffragette movement in Bristol and the west country. In 2017 she published a collection of short essays, The Road to Representation: Essays on the Women's Suffrage Campaign.
Contributions to other publications include:-
'Not So Militant Browne' in Suffrage Stories: Tales from Knebworth, Stevenage, Hitchin and Letchworth (Stevenage Museum, 2019)
'Victoria Lidiard' in The Women Who Built Bristol, Jane Duffus (Tangent Books, 2018)
'Tramgirls, Tommies and the Vote' in Bristol and the First World War: The Great Reading Adventure 2014 (Bristol Cultural Development Partnership/Bristol Festival of Ideas, 2014)
Articles, interviews and reviews in various publications including Bristol Times, Clifton Life, The Local Historian, Historical Novels Review (Historical Novel Society), Nonesuch, Bristol 24/7, Bristol History Podcast, etc.
Lucienne has appeared on television and radio in connection with her fiction and non-fiction work. She regularly gives talks and leads walks about the women's suffrage movement. She also gives talks and runs workshops on historical fiction for literary festivals, Women's Institutes, local history societies, and other organisations. She has been a radio presenter on BCfm, and a course tutor.
In 2018 she was instrumental in devising and delivering Votes for Women 100, a programme of commemorative events by the West of England and South Wales Women's History Network in partnership with Bristol M Shed and others. She also campaigned and raised funds for a Blue Plaque for the Bristol and West of England Women's Suffrage Society.
She is on the steering committee of the West of England and South Wales Women's History Network, and is also a member of the Historical Novel Society, the Society of Authors, and the Alliance of Independent Authors.
She is currently working on the fourth full-length Dan Foster Mystery, and a biography of suffrage campaigner Millicent Browne.
Lucienne was born in Wolverhampton and now lives in Bristol.