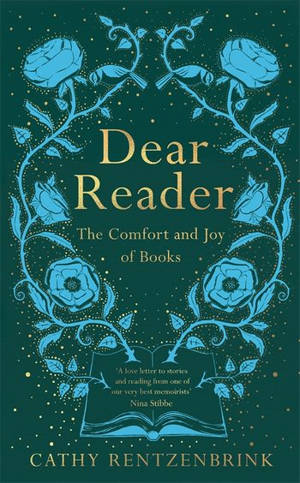 ShortBookandScribes #BookReview – Dear Reader by Cathy Rentzenbrink
I'm delighted to be sharing my thoughts about Dear Reader by Cathy Rentzenbrink today. What a wonderful book this is. My thanks to Camilla Elworthy from Picador for the proof copy of the book for review purposes.
---

---
For as long as she can remember, Cathy Rentzenbrink has lost and found herself in stories. Growing up she was rarely seen without her nose in a book and read in secret long after lights out. When tragedy struck, books kept her afloat. Eventually they lit the way to a new path, first as a bookseller and then as a writer. No matter what the future holds, reading will always help.

Dear Reader is a moving, funny and joyous exploration of how books can change the course of your life, packed with recommendations from one reader to another.

From the Sunday Times bestselling author of The Last Act of Love.
---

---
In Dear Reader, Cathy Rentzenbrink talks about the comfort and joy of books. Well, dear reader, I can tell you that this book is a comfort and a joy in its own right. It's absolutely splendid and I was captivated by it from start to finish.
Rentzenbrink has always loved stories. An avid reader from an early age, it's fair to say that books have shaped her life. I envy her ability to shut off and fully immerse herself in a fictional world (my mind is too aflutter for that), although I'm not sure that I'd want to do so to the point of hallucinating (yes, that does happen to the author – eek).
Beginning with her earliest reads such as The Lion, The Witch and the Wardrobe, we are taken through the author's life to date and she tells us how books have formed some of the most memorable times for her from Cornwall to Yorkshire to Scotland and back again. I was most interested in her time as a bookseller at various establishments and found it fascinating to read her tales of author events, strange customers, stocking the shelves and buying the stock, and more. Is there an avid reader out there who doesn't dream of bookselling?
These sections are punctuated by books Rentzenbrink has enjoyed, and they relate to what has come before, so books about motherhood after the section in which she became a mother herself, or memoirs after she talks about writing her own memoir. I loved these recommendations and found I had to keep stopping to look up the books – not good for the old TBR pile!
Dear Reader is like a giant warm hug and is a complete delight. There's a special charm in a book about books and this is probably the best of the genre I have read. The author writes beautifully about the ups and downs of her life and how books have been a constant companion throughout. I was enthralled by this combination of a memoir and a celebration of the written word. Beautiful!
---
---
Cathy Rentzenbrink is the author of The Last Act of Love and A Manual for Heartache and Dear Reader: The Comfort and Joy of Books. She speaks and writes regularly on life, death, love, literature, literacy and mental health, and is often to be found doing bookish events at festivals, in shops and libraries, and in prisons. In previous lives Cathy worked for The Bookseller, The Reading Agency, Quick Reads, Waterstones and The Bell & Crown Inn. Despite her books being shortlisted for various prizes, the only thing Cathy has ever won is the Snaith and District Ladies Darts Championship when she was 17. She is now sadly out of practice.