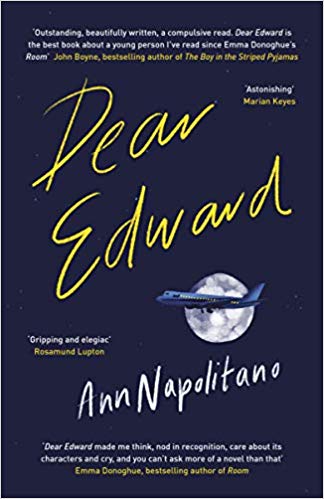 ShortBookandScribes #BookReview – Dear Edward by Ann Napolitano @VikingBooksUK #BlogTour #DearEdward
It's my stop on the blog tour for Dear Edward by Ann Napolitano and you can read my thoughts about it below. My thanks to Hannah Sawyer from Viking Books for the place on the tour and for sending a proof copy of the book for review purposes.
---

A luminous, life-affirming novel about a 12-year-old boy who is the sole survivor of a deadly plane crash

One summer morning, a flight takes off from New York to Los Angeles. There are 192 passengers aboard: among them a young woman taking a pregnancy test in the airplane toilet; a Wall Street millionaire flirting with the air hostess; an injured soldier returning from Afghanistan; and two beleaguered parents moving across the country with their adolescent sons, bickering over who gets the window seat. When the plane suddenly crashes in a field in Colorado, the younger of these boys, 12-year-old Edward Adler, is the sole survivor.

Dear Edward depicts Edward's life in the crash's aftermath as he struggles to make sense of the meaning of his survival, the strangeness of his sudden fame, and find his place in the world without his family. In his new home with his aunt and uncle, the only solace comes from his friendship with the girl next door, Shay. Together Edward and Shay make a startling discovery: hidden in his uncle's garage are sacks of letters from the relatives of the other passengers, addressed to Edward.

As Edward comes of age against the backdrop of sudden tragedy, he must confront some of life's most profound questions: how do we make the most of the time we are given? And what does it mean not just to survive, but to truly live?
---
Dear Edward is a story that looks at how you go on living when all you had is gone.
The story begins as 12 year old Edward, his 15 year old brother Jordan, and their parents are about to board a plane to take them from their home in New York to their soon to be new home in Los Angeles. Throughout the story we are introduced to some of the other passengers on the flight, as well as getting some more information about Edward and his family. This is particularly poignant given what we know will happen: that the plane will crash and 191 of the people on board will die. Edward will be the sole survivor.
What an incredible situation. For the family of the people who died, Edward's survival is something that helps to keep them going. Perhaps Edward passed their relative on the way to the bathroom on the plane. Perhaps he exchanged a few words with them. Edward gives them a life raft to cling to in the stormy sea of their grief.
I liked Edward and really felt for him as he dealt with his own grief and pain and, yes, a kind of guilt that he survived what no one else could. I found his story to be moving yet not emotional somehow. As a character he manages to deal with his loss in a quiet and dignified way.
Ann Napolitano writes beautifully and elegantly. In a pared back way she manages to convey Edward's feelings without actually telling us. It's all there between the lines. I really liked the way the story is told in alternating chapters so that one chapter is set on the plane and the other is set after the crash. I think it made the story even more heart-breaking as it allowed me to get to know, even in a small way, the people travelling with Edward.
The author is adept at getting to the heart of emotions and portraying them on the page. I thought Dear Edward was an innovative and moving story of survival and learning to live life in a different way.
---

---

Ann Napolitano is the author of the novels A Good Hard Look and Within Arm's Reach. She is also the Assistant Editor of One Story literary magazine. She received an MFA from New York University; she has taught Creative Writing for Brooklyn College's MFA programme, New York University's School of Continuing and Professional Studies and for Gotham Writers' Workshop. She lives in Brooklyn with her husband and two children.