ShortBookandScribes #BookReview – Coronation Year by Jennifer Robson
Coronation Year by Jennifer Robson is published by Headline Review in paperback and ebook.
---

---
London, 1953. A new Queen is about to be crowned, and at the historic Blue Lion Hotel, the lives of three residents are about to change in unexpected ways.

Edie Howard, owner of the hotel, needs a miracle to rescue it from closure. Now, it will become a sought after spot as the young Queen's carriage passes by on Coronation Day, offering Edie the chance to save her business from financial ruin.

Stella Donati, an Italian photographer and Holocaust survivor, lives at the Blue Lion. Her coveted position at Picture Weekly magazine opens a different world, giving her a purpose she thought she had lost with everything else she knew.

James Geddes, a gifted artist, has struggled to make his mark since his return from active service in the war in a world that disdains his Indian heritage. The Blue Lion affords him sanctuary and a welcome. Yet as his friendship with Edie deepens, he begins to suspect that something is badly amiss.

When anonymous threats focus on Coronation Day, Edie, Stella and James are determined to save their home, their livelihoods, and to expose those who seek to destroy them and the joyful promise of Coronation Year.
---

---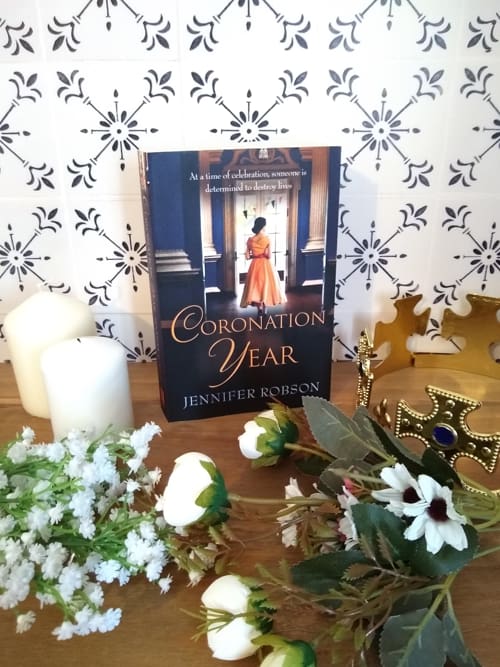 It's London in 1953: Coronation Year. The book begins on 1st January with Edie Howard, the owner of the Blue Lion hotel, looking forward to the year ahead but knowing it's going to be hard work. She needs to turn around the Blue Lion's fortunes and as it has a coveted position right on the Coronation procession route she knows she has something unique to offer potential guests.
The Blue Lion is a brilliantly drawn establishment (the illustration at the beginning is also quite literally brilliantly drawn). It has residents who live there all the time, along with people who come to stay for shorter lengths of time for holidays. I found it really easy to imagine the look, the feel, the smell of the hotel, the wonderful breakfasts that Cook manages to make, even though so much is still on the ration, and the quite eccentric residents in situ about the place.
Edie Howard is only one of the three main characters. The others are Stella Donati, a young Italian photographer taking her first job as such at Picture Weekly, and James Geddes, a talented artist of Scottish/Indian heritage which doesn't always get him the best reception in 1950s England. The stories of the three characters are woven together perfectly and I found them such engaging creations.
At the heart of the book is a plot to spoil everything that Edie has worked for and it adds a touch of intrigue and excitement to the storyline that mostly revolves around planning for the Coronation of Queen Elizabeth II. I was transported completely to 1953 London, the difficult after-war years mingling with the growing excitement of a new Elizabethan age.
Coronation Year was everything I hoped it would be and more besides. It's absolutely my favourite kind of historical fiction, based around some real events, with a royal theme and several different strands coming together. This is my first book by this author but I do also have The Gown and looking at her other books I think I'd like them all. I do hope for more royal stories in the future too. I absolutely adored this book which utterly captivated and delighted me.
---
---
Jennifer Robson is the USA Today and No. 1 Toronto Globe & Mail bestselling author of give historical novels, including The Gown. She studied French literature and modern history as an undergraduate at the University of Western Ontario-King's College, then obtained her doctorate in British economic and social history at St. Antony's College at the University of Oxford, England.
To find out more about Jennifer visit her website: www.jennifer-robson.com or find her on Facebook /AuthorJenniferRobson, Twitter @AuthorJenniferR and Instagram @authorjenniferrobson.