ShortBookandScribes #BookReview – Connective Tissue by Eleanor Thom
Connective Tissue by Eleanor Thom is published by Taproot Press and available now in paperback. My thanks to the publishers for the review copy.
---

---
South-West Scotland, 2010. Air-traffic controller Helena's baby is born with unexplained paralysis. Faced with an unforgiving medical establishment, she turns to the Jewish grandmother she never knew, unfolding the past in search of answers. Berlin, 1937. Single mother and kitchen hand Dora struggles in a city growing increasingly hostile, with questions being asked of bloodlines and identity. Will she always be alone? And how long will she and her daughter be able to call this home? Based on extensive research into Eleanor Thom's lost family history, Connective Tissue is a story of migration, motherhood, and our need to know the people and places that make us.
---

---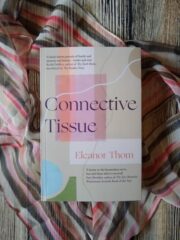 Connective Tissue is a dual-timeline story set in Scotland in 2010 and Berlin in the 1930s. Helena is an air-traffic controller pregnant with her first baby, forced into a long hospital stay due to complications. When her baby is born he suffers from a kind of paralysis which has no obvious explanation. Looking back through her family roots, Helena starts to consider whether it might be a genetic condition and embarks on a journey to find out more about Dora, the grandmother she didn't know very well. Dora was a German Jew, a single mother unable to look after her daughter full-time in a country where her safety, and that of her family, was threatened more and more by the day.
The title of this book is clever, referring both to a medical condition that both Helena and Dora have, and to the connective tissue that binds them together through the generations of their family. There's also a theme of trees running throughout the book which felt like a metaphor for the family tree. Eleanor Thom's writing is contemplative and powerful, and knowing that she is in effect writing about her own family in fictionalised form makes this story even stronger and even more compelling. I didn't find it to be a quick read but it's a worthwhile one.
Connective Tissue is a haunting and moving story of motherhood and migration, and the invisible threads that link us to the past and made us who we are.
---
---
Eleanor Thom lives in Edinburgh. Recurring themes in her work are place, social history, memory and family life. Her first novel, The Tin-Kin, won the Saltire First Book of the Year Award and was featured on BBC TV's The Culture Show. For the past five years, she has been the Community Writer in Residence for the Edinburgh International Book Festival. Eleanor's research on her grandmother was presented to the Bundestag in 2022 during proceedings to change Germany's citizenship laws. As a result, along with her mother and her children, Eleanor was granted dual German citizenship on grounds of restitution.