ShortBookandScribes #BookReview – Coming Home to Winter Island by Jo Thomas @headlinepg #RandomThingsTours #BlogTour
Jo Thomas is one of my very favourite writers, one whose books I would read without knowing anything about them. So I'm delighted to be sharing my review of Coming Home to Winter Island by Jo Thomas today as part of the blog tour. My thanks to Headline for the lovely proof copy of the book for review purposes and to Anne Cater from Random Things Tours for the place on the tour.
---
Do you need to find out where you've come from before you can know what the
future holds?

Ruby's singing career is on the verge of hitting the big time, when her voice breaks.
Fearing her career is over, she signs up for a retreat in Tenerife to recover.

But an unexpected call from a stranger on a remote Scottish island takes her on a short
trip to sort out some family business. It's time to go and see the grandfather she's never
met.

City girl Ruby knows she will be happy to leave the windswept beaches behind as quickly
as she can, especially as a years-old family rift means she knows she won't be welcome
at Teach Mhor.

But as she arrives at the big house overlooking the bay, she finds things are not as
straightforward as she might have thought.

There's an unexpected guest in the house and he's not planning on going anywhere any
time soon …
---

She's gone and done it again. This is another gorgeous story from the pen of Jo Thomas.
Not only is it a gorgeous story but this time she's chosen to write about somewhere that happens to be one of my very favourite settings: a remote Scottish island. Ruby is a singer and is just about to perform for a very important A&R person when her voice gives up on her. Intending to go to Tenerife to try and make it better, she actually ends up going to Winter Island to deal with the care for the grandfather she has never known. When she gets there she meets Lachlan but she can't work out what he's actually doing at her grandfather's home.
Thomas has a winning formula for her books. She combines a beautiful and interesting setting with a particular item of food or drink and then adds a love story. It's her own personal recipe for success and it works every single time. In this book the combination of the island's beauty is mixed with a lost recipe for a very special gin. Ruby thinks she can't wait to get her voice back and get home to her boyfriend, Joe, and the band she performs with but spending a few weeks on Winter Island makes her realise that maybe she had her priorities wrong and she starts to reconsider what it actually is that she wants.
I've never been let down by anything Jo Thomas has written. She has a quality to her writing that I find quite beguiling. Very early on in this book a description of the island brought a lump to my throat and a little tear was shed towards the end. Her books are easy reads and yet they offer the reader such an enriching experience. As is always the case, I immediately want to go to this Scottish island, to watch the sea and see the seals' heads bobbing around, to visit the big hoose and meet all the characters, to taste the gin and to hear Ruby sing. If I could dive right into the pages then I would. Alas I cannot, but I had the next best thing which was to immerse myself in the wonderful storytelling of Jo Thomas.
I highly recommend Coming Home to Winter Island for a bit of escapism. It's feel-good travel/food fiction at its best. I'm already excited for where this author will take me next. Can't wait!
---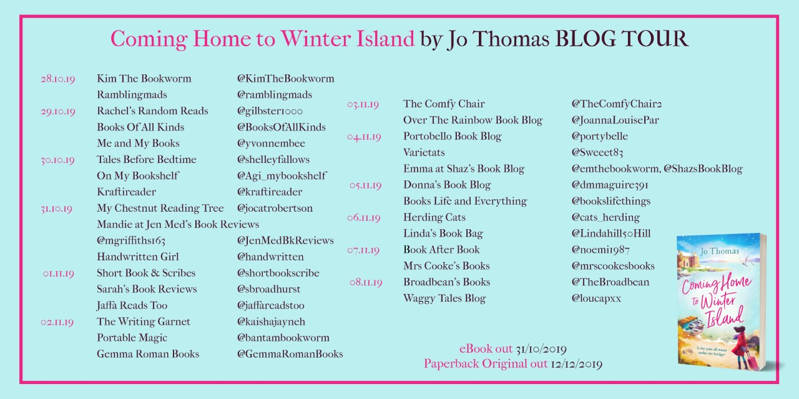 ---

Jo Thomas worked for many years as a reporter and producer, first for BBC Radio 5, before moving on to Radio 4's Woman's Hour and Radio 2's The Steve Wright Show. In 2013 Jo won the RNA Katie Fforde Bursary. Her debut novel, The Oyster Catcher, was a runaway bestseller in ebook and was awarded the 2014 RNA Joan Hessayon Award and the 2014 Festival of Romance Best Ebook Award. Jo lives in the Vale of Glamorgan with her husband and three children.