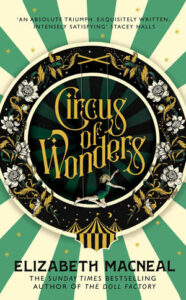 ShortBookandScribes #BookReview – Circus of Wonders by Elizabeth Macneal
Today's review is for the wondrous Circus of Wonders by Elizabeth Macneal. My thanks to Camilla Elworthy from Picador for the beautiful proof copy. I remember when they were landing with bloggers and somebody told me they were being sent with a candle holder. Very nice, I thought. But then a surprise package arrived and it wasn't just any candle holder, it was an Elizabeth Macneal tealight holder. Reader, I swooned!
Circus of Wonders will be published in hardcover, ebook and audiobook on 13th May.
---

---
1866. In a coastal village in southern England, Nell picks violets for a living. Set apart by her community because of the birthmarks that speckle her skin, Nell's world is her beloved brother and devotion to the sea.

But when Jasper Jupiter's Circus of Wonders arrives in the village, Nell is kidnapped. Her father has sold her, promising Jasper Jupiter his very own leopard girl. It is the greatest betrayal of Nell's life, but as her fame grows, and she finds friendship with the other performers and Jasper's gentle brother Toby, she begins to wonder if joining the show is the best thing that has ever happened to her.

In London, newspapers describe Nell as the eighth wonder of the world. Figurines are cast in her image, and crowds rush to watch her soar through the air. But who gets to tell Nell's story? What happens when her fame threatens to eclipse that of the showman who bought her? And as she falls in love with Toby, can he detach himself from his past and the terrible secret that binds him to his brother?

Moving from the pleasure gardens of Victorian London to the battle-scarred plains of the Crimea, Circus of Wonders is an astonishing story about power and ownership, fame and the threat of invisibility.
---

---
Elizabeth Macneal's second novel returns to the Victorian era that she evoked so beautifully in The Doll Factory. Circus of Wonders delves deep into the clamour at the time for deformito-mania, the people who become curiosities because of their differences.
Nell is a 'leopard girl', her skin speckled with birthmarks which have always marked her out, scared others because of their ignorance. She is plucked from her simple life in relative hiding with her brother and father, picking flowers for a living, and plunged straight into a life with Jasper Jupiter's Circus of Wonders. At first railing against it, she soon realises that this is a place where she can truly be herself and where she fits in.
Macneal describes perfectly the life that Nell leads and the juxtaposition between her old life and her new one. Her prose is captivating, bringing the performers and their existence into colourful 3D and thrusting me straight into the tent with them: the scent of sweat and animals mingling together, the cheers of the crowd, the thrill in the air. I loved Nell and delighted in watching her grow in confidence and become alive, and also fall in love with Toby, Jasper's brother.
Toby and Jasper have their own side-story, dating back to childhood and taking in the war-torn Crimea. The author has weaved a tale of sibling jealousy, where one rises taking their power from the other one, like a sea-saw in action. Only one can soar at any one time. I enjoyed the way their relationship was portrayed, and also Toby's own rise in Nell's company.
Circus of Wonders is a mesmeric story, one which I flew through. It's a salutary look at greed and the desire for fame, and a skilful telling of the way in which, when a person finds their true place in life, they can learn to fly. I thought it was a marvellous read.
---
---
Elizabeth Macneal was born in Scotland and now lives in East London. She is a writer and potter and works from a small studio at the bottom of her garden. The Doll Factory, Elizabeth's debut novel, was a Sunday Times bestseller, has been translated into twenty-nine languages and has been optioned for a major television series. It won the Caledonia Novel Award 2018. Circus of Wonders is her second novel.