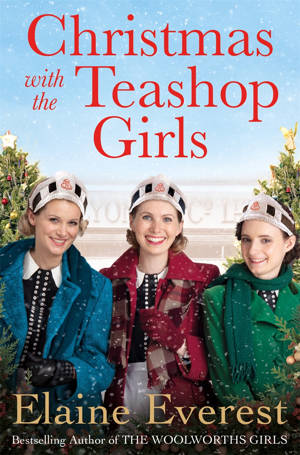 ShortBookandScribes #BookReview – Christmas With the Teashop Girls by Elaine Everest #TeashopGirlsChristmas #BlogTour
It's my stop on the blog tour for Christmas With the Teashop Girls by Elaine Everest and I'm sharing my thoughts about this lovely read below. My thanks to Megan Denholm from ED PR for the place on the tour and for sending a gorgeous hardback copy of the book for review purposes.
---

---
The friends return in a moving story of love, bravery and hope set in 1940 – a guaranteed winter warmer full of festive spirit. Bestseller Elaine Everest is the author of the muchloved Woolworths Girls saga series.

It's late 1940 and the war feels closer to home than ever for Rose Neville and her staff at the Lyon's Teashop in Margate. The worry of rationing hangs overhead as the Nippies do their best to provide a happy smile and a hot cup of tea for their customers. When a bombing raid targets the Kent coastline, Lyon's is badly hit, throwing the future of the cafe into jeopardy.

The light in Rose's life is her dashing fiancé Captain Ben Hargreaves and she's busy planning their Christmas Eve wedding. But she must also plan to take two new stepdaughters into her life and get on the right side of her wealthy mother-in-law, Lady Diana. Is Rose ready to become a mother?

When Rose's half-sister Eileen makes contact, it seems that Rose's dreams of having a sibling are coming true at long last. But her friends begin to suspect that she's hiding something… As the wedding draws near, the bombings intensify, putting everything and everyone Rose loves in danger. Only one thing is for sure: it will be a Christmas she never forgets . . .
Christmas with the Teashop Girls by Elaine Everest is out now, published by Pan Macmillan, priced £7.99 as paperback original.
---

---
Christmas With the Teashop Girls picks up right where the first book, The Teashop Girls, left off. The girls are Rose, Katie and Lily and all of them work for the legendary Lyons teashops. I love all the little details about the teashops, the Nippies, and the way the shops work. Elaine Everest has obviously done lots of research to make it feel completely authentic.
There's plenty going on in this book. It's 1940 and bombing raids are stepping up a gear, especially in London and along the Kent coast where the book is set. Rose is planning her wedding to Ben and getting used to the idea of her new role as his wife and stepmother to his two girls. Rose is the main character but there are lots of other characters who play a major part in the story and most of them seem to live at Sea View, the guesthouse run by Rose's mother, Flora. Being under her roof must be like having a giant warm hug around you all the time.
Despite the troubling times and quite a few ups and downs for the girls, this is a gentle read for the most part and it was just a delight to read. Everest writes with warmth and really makes the reader care about the characters. There's also a great deal of empathy in her writing as we once again witness catastrophic wartime losses, and yet there's also such camaraderie as they all troop down into the tunnels where they shelter during air raids. Nobody would choose to live through such events but there's a real sense of pulling together as a community, friendship, and looking out for those around you.
I'm hoping this isn't the last we see of the Teashop Girls. I have a feeling that they have a lot more to tell us and I'd love to see how they all fare throughout the remainder of the war years. I raced through Christmas With the Teashop Girls and didn't want to put it down. I was well and truly drawn back into the lives of the characters and I thought this was a gorgeous addition to the saga genre.
---

---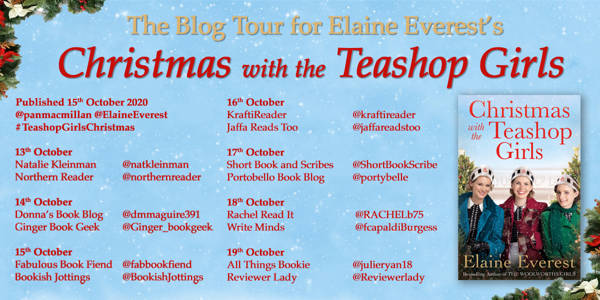 ---
---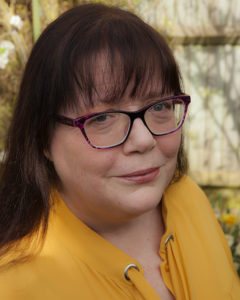 Elaine Everest is from North West Kent and she grew up listening to stories of the war years in her home town of Erith, which features in her bestselling Woolworths Girls series. A former journalist, and author of nonfiction books for dog owners, Elaine has written over sixty short stories for the women's magazine market.
When she isn't writing, Elaine runs The Write Place creative writing school in Hextable, Kent. She lives with her husband, Michael and sheepdog Henry.