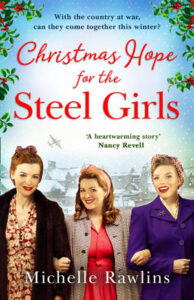 ShortBookandScribes #BookReview – Christmas Hope for the Steel Girls by Michelle Rawlins
My review today is of Christmas Hope for the Steel Girls by Michelle Rawlins, the second instalment in the Steel Girls series. My thanks to the author for very kindly sending me a copy for review purposes.
---

---
Winter, 1939
As December draws nearer and with her family facing their first Christmas without Bert, Nancy is desperately trying to keep up her children's spirits and her own.

Young Patty should be excited to be spending her first festive season with sweetheart Archie, but why does she worry he's keeping something from her?

Betty is missing her beloved William as he continues his RAF training but she's determined not to sit around wallowing. In the midst of the coldest winter on record and with the introduction of rationing, times are tougher than ever but Betty has an idea to make sure nobody goes without this winter.

And with our Steel Girls rallying around each other, can there still be hope this Christmas?

The second novel in the new heartwarming Steel Girls series following our feisty factory sister's bravery and hope during wartime, perfect for fans of Nancy Revell and Elaine Everest.
---
---
Christmas Hope for the Steel Girls picks up right where The Steel Girls left off. Betty is reunited with her lovely William who she thought had forgotten about her, Nancy's Bert is off fighting goodness knows where and she's trying to keep it together for their children, and Patty is her usual happy-go-lucky self with her new man, Archie. All three women are working at Vickers Steel Works in Sheffield and are really starting to find their feet after a difficult start.
It was really nice to catch up with the girls again and follow their progress through the war. We're still in 1939 heading towards the first Christmas of the war and at that point things hadn't really got going but families were already starting to feel the pinch. This book focuses a lot on make do and mend, with Betty coming up with all kinds of plans to help those less fortunate and struggling to manage. It was lovely to see her landlady, Mrs Wallis, stepping forward as a character and I really enjoyed the new friendship that she finds with another of the characters.
After a relatively stable time of it, the ending was unexpected and I'm sure paves the way for book three of this series. I wonder what will happen next and what's in store for Betty, Nancy and Patty as the war really gets underway in 1940
Christmas Hope for the Steel Girls is a sweet and gentle read. For me, the Sheffield references and places make it more special but this is a lovely story to remind you of the power of friendship and the human spirit, especially in the run up to Christmas.
---

---
After working as a journalist for 25 years, writing real life stories, for the women's magazines & national newspapers, I began teaching at the University of Sheffield – a job I love with all my heart
Around the same time, I finished writing Women of Steel, after spending two years researching this incredible generation.
I'm currently writing a series of historical fiction books on this remarkable band of women, who sacrificed so much, by taking highly dangerous and physically relentless roles in the Sheffield steel factories, during WW2, to 'do their bit'.
When I'm not teaching or writing, I have two amazing kids and a crazy cavapoo, who are all very apt at keeping me on my toes.
There's not a day that goes by, when I don't remind myself how lucky I am to get to this position.