ShortBookandScribes #BookReview – Cat Society by Ray Sadri
Cat Society by Ray Sadri is published by Book Guild today in paperback and eBook. My thanks to the author for the review copy and the lovely extras to enjoy whilst reading.
---

---
Cat Society is a witty and bonkers story of life and politics in Westminster – reimagining the debates, events and headlines of recent years had the world been run by cats. A lot changes. A lot doesn't.

The country is on the brink of bankruptcy, and backbencher Douglas Schnitty is disappointed with the thousands of homeless cats sleeping by the bins. He gets frustrated with higher powers who only seem to care about their own interests and preserving the country's finances.

He schmoozes and sabotages his way through the political elite, from assisting the bombastic Hector Perp Pahpousson to disrupting the plans of the Prime Minister. Can his conscience save him, and the slum cats, as events spiral out of control?
---

---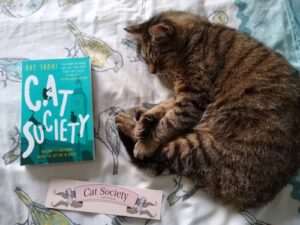 Imagine a world in which hoomans are extinct and everything is run by cats. Cat Society follows a group of pawliticians who are, by and large, much the same as their human counterparts.
Douglas Schnitty is a backbencher whose agenda is focused on finding homes for the countless cats who have to sleep by the bins. Finding them a cabin in one of the trees is paramount but to do so he'll have to resort to some rather dirty tactics.
Cat Society is a lively and humorous story written by somebody who knows what he's talking about. Issues such as homelessness, immigration and the public purse are covered and it's all too familiar as the cats are not, on the whole, all that trustworthy.
Cat lovers will enjoy this book and I think those that understand the machinations of the British political system will really get so much more out of this book. That isn't me and so I read it as more of a fun parody rather than the political satire that I think it really is. It's a combination of razor-sharp observations and zany feline escapades.
---
---
Ray Sadri has been a radio journalist, a central government Chief Press Officer and now runs campaigns in the worlds of politics and business. His many years in political communications and journalism taught him that politicians and cats are very much alike. This realisation helped him come up with the concept of Cat Society. He lives with his fiancé, baby boy and Norwegian Forest Cat, Mads ― who naturally reigns supreme in the family.