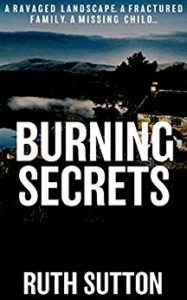 ShortBookandScribes #BookReview – Burning Secrets by Ruth Sutton @ruthsutton @fahrenheitpress #damppebblesblogtours
I'm very pleased to be taking part in the blog tour for Burning Secrets by Ruth Sutton and I'll be sharing my review with you today. My thanks to Emma Welton of damppebbles blog tours for the place on the tour and to Fahrenheit Press for the review copy.

It's the spring of 2001 and Foot & Mouth disease is raging across Cumbria.

Twelve-year-old Helen Heslop is forced to leave her family farm and move in with relatives in a nearby town because the strict quarantine means she can't travel back and forth to school in case she inadvertently helps spread the disease.

As the authorities and the local farming communities try desperately to contain the outbreak, tensions run high and everyone's emotions are close to the surface.

And then Helen disappears.

The police search expands all over the northwest coast where farms are barricaded and farming families have been plunged into chaos – not least the Hislop family, where potentially explosive fault lines are exposed.

Under the strain tensions build inside the police team too, where local DC Maureen Pritchard is caught between old school DI Bell and new broom DS Anna Penrose.

Will Helen survive? And can life for the Heslop family ever be the same, once burning secrets are discovered and old scores settled?
Purchase Links:
---
I think what particularly appealed to me about this book was the setting and what was happening at the time it is set. Cumbria during the foot and mouth epidemic of 2001 provides a devastating backdrop to the story which revolves around the disappearance of a young girl.
Helen Heslop, aged 12, is the young girl. She'd been living away from the family farm because she was unable to risk spreading FMD by going to school and back. You can imagine the disruption this must have caused her, let alone being forced to live with relatives who are far from her favourite people. When she disappears, the local police are called in to investigate and look into who might have taken her and what secrets might be found at the family farm.
The police mainly consist of DC Maureen Pritchard, DS Anna Penrose and their boss, DI 'dinger' bell. I liked the two women. Despite being pitted against each other at a time when women were still expected to stick to the lower ranks, they learn to work together and use their strengths. Maureen has lots of local knowledge, but Anna's background in the Army stands in her good stead in other ways.
If you like a straight up and down police procedural then you'll love Burning Secrets. It looks at an interesting time in recent history, an awful and distressing time, and adds in many complications which hinder the police investigation. The setting is vivid and atmospheric – I could almost smell the burning pyres and the disinfectant, feel the worry, panic and fear of the farmers.
I think this is a very good crime novel. It's well plotted with some really interesting characters and plenty of secrets and lies for the reader to get their teeth into.
---

---

Ruth is a very independent person, which – like many things – is good up to a point, but can get tricky sometimes. She lives in a very beautiful place, but it's a long way to a cinema, or a big supermarket, and if the time comes when she can't or doesn't want to drive, she'll have to move as there's no public transport. She qualifies for a bus pass, but there aren't any buses. Her daughter and her family live quite close by, and she loves to see her two grandchildren. After decades on her own, she has a partner whom she loves. They each have their own house, 40 minutes apart, and this life style suits them both. Ruth wrote her first novel after she was 60.
In addition, Ruth has self-published a trilogy entitled Between the Mountains and the Sea; A Good Liar tells the story of Jessie who risks career and independence with a love affair, whilst her secret past draws ever closer. Forgiven is set among the coal mines and fells of the Cumberland coast. Jessie's struggle for happiness continues. Fallout features the nuclear disaster at Windscale, which brings a compelling stranger into Jessie's world.
Social Media: