ShortBookandScribes #BookReview – Blurred Lines by Hannah Begbie #BlogTour
It's my stop on the blog tour for Blurred Lines by Hannah Begbie and I'm sharing my thoughts about the book below. My thanks to Harper Collins for the copy of the book and to Anne Cater of Random Things Tours for the place on the tour. Blurred Lines will be published on 20th August.
---

---
She spoke out. I stayed silent.
What would you do?

A compulsive, literary domestic suspense set to spark debate.

When Becky accidently sees her boss with a woman who isn't his wife, she's horrified but keeps her counsel – she owes Matthew so much for all he's done for her career. But when the same woman accuses him of rape and asks for the witness to come forward, Becky doesn't know what to do.

Was what she saw rape? Or is this a young actress looking to get ahead? And can Becky separate her own traumatic past from the present?

As Becky attempts to untangle these blurred lines, she must risk everything to find the truth…

Blurred Lines is a brilliantly written novel that explores the effects of #metoo, and questions identity, womanhood, and how trauma is dealt with.

Perfect for fans of Doctor Foster, Apple Tree Yard, The Couple Next Door and Blood Orange.
---

---
Sometimes you read the synopsis of a book and it completely grabs you. It captures your imagination, makes you think "what would I do if…". That's what happened to me with Blurred Lines. As soon as I read the synopsis I knew I desperately wanted to read this book.
The tagline is that "there are two sides to every story". Becky is a budding film producer and one evening she sees her boss, Matthew, having sexual relations with a woman. She's embarrassed but doesn't think too much of it until the woman accuses Matthew of rape. Was it rape? Only Matthew and the woman know the answer to that. But tightly wound up in this is something that happened in Becky's own past and also the fact that Matthew is helping Becky to make her own film, thereby fulfilling her ambitions. There are so many blurred lines in this book that it's a wonder I could see straight to read it!
I was expecting a wow book and I'll be honest and say that I was a little worried in the first chapters that maybe it wouldn't be that for me. Then, all of a sudden, I found myself turning the pages without stopping for breath, so engrossed was I in Becky's story, both past and present. It definitely was a wow book after all.
I had a feeling about how things were going to turn out and I was right but that doesn't take anything away from the plotting. We don't all need major twists; a well-written story is enough. The power of this story is in considering boundaries and how and when they are crossed for different people. I found tears springing to my eyes and I could see it from so many different perspectives, with several moral and ethical dilemmas thrown into the mix. Hannah Begbie has written something so thought-provoking and so incredibly relevant with Blurred Lines.
I thought this was a brilliant read. The characters are so well-drawn I felt as if I knew them and was involved personally in their lives. I was made to care about them. Couple that with a fantastic story and writing that completely pulled me in, and this is a winner in my eyes.
---

---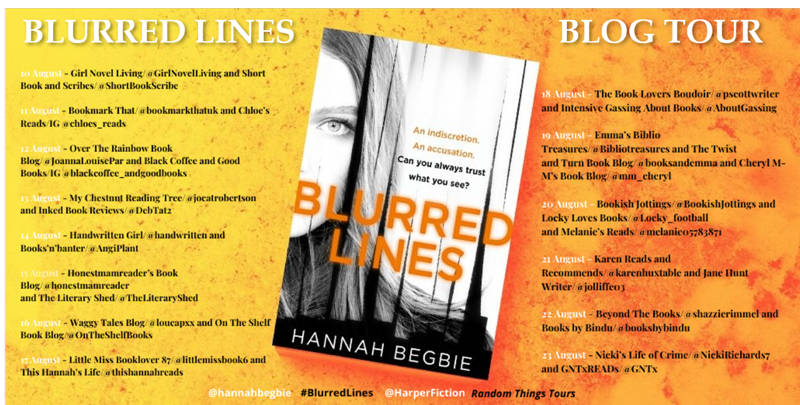 ---
---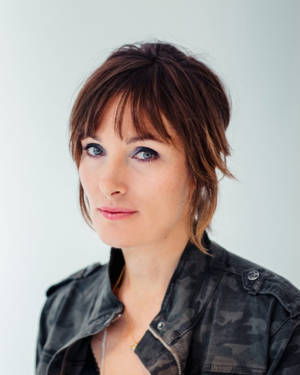 Hannah Begbie studied Art History at Cambridge University. She went on to become a talent agent, representing BAFTA and Edinburgh Comedy Award-winning writers and comedians for fifteen years. She also enrolled in The Novel Studio course at City University, winning that year's new writing prize. The book she developed there became her debut novel, MOTHER, which later went on to win the Joan Hessayon Award for New Writers from the RNA. The TV rights were snapped up by Clerkenwell Films (Lovesick, Misfits) after a heated auction, with screenwriter Tom Edge (The Crown, Judy) attached.
She lives in north London with her husband and their two sons.