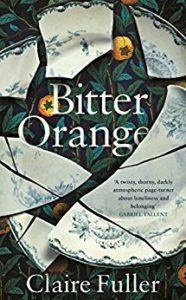 ShortBookandScribes #BookReview – Bitter Orange by Claire Fuller
I'm so pleased to be able to share my review of Claire Fuller's latest masterpiece, Bitter Orange, with you today. My thanks to Penguin Random House for the review copy.

From the attic of a dilapidated English country house, she sees them – Cara first: dark and beautiful, clinging to a marble fountain of Cupid, and Peter, an Apollo. It is 1969 and they are spending the summer in the rooms below hers while Frances writes a report on the follies in the garden for the absent American owner. But she is distracted. Beneath a floorboard in her bathroom, she discovers a peephole which gives her access to her neighbours' private lives.

To Frances' surprise, Cara and Peter are keen to spend time with her. It is the first occasion that she has had anybody to call a friend, and before long they are spending every day together: eating lavish dinners, drinking bottle after bottle of wine, and smoking cigarettes till the ash piles up on the crumbling furniture. Frances is dazzled.

But as the hot summer rolls lazily on, it becomes clear that not everything is right between Cara and Peter. The stories that Cara tells don't quite add up – and as Frances becomes increasingly entangled in the lives of the glamorous, hedonistic couple, the boundaries between truth and lies, right and wrong, begin to blur. Amid the decadence of that summer, a small crime brings on a bigger one: a crime so terrible that it will brand all their lives forever.
---
It's fair to say that Bitter Orange was one of those books. You know the ones, where you get excited at the very thought of being able to pick it up and devour it. Where you just know that you are going to get an intensely fabulous experience.
Frances Jellico is at the end of her life. She looks back to a very brief, but life-changing time when she met Peter and Cara. She was commissioned in 1969 to write a report on the garden structures of Lyntons, a rundown country house and there she met Peter, who had been engaged to do something similar with the inside of the house, and Cara his wife. Just the three of them lived in the house during that time and inevitably they started to spend all their time together.
The friendship between the three is what I would call toxic in every way. Vulnerabilities brought to the fore and preyed upon, exploited. At every stage I felt a kind of protectiveness for Frances, a fairly naive and gullible 39 year old. Peter and Cara, on the other hand, are more worldly, eating food and drinking drink that Frances has only heard about. I could sense such foreboding. I knew that the story couldn't end well, but a couple of big surprises left me goggle-eyed.
Bitter Orange is such an atmospheric, powerful novel. It talks of love and loss, passion and voyeurism. Claire Fuller has such a beautiful way with words. Her descriptions on behalf of Frances of that heady summer, the heat, the sense of something lurking in the attic rooms, the over-indulgences, the leading astray, all put me right there with them. And the short interludes, where Frances is at the end of her life, are so moving, so sad, so thoughtful.
The characterisations are fabulous too. There is a strong sense (both metaphorical and literal) of Frances, during the course of her time at Lyntons, throwing off her shackles, becoming unloosened and freer. Ultimately though, despite looking back on those times with some fondness, it also led to her complete undoing.
Bitter Orange is a book to savour (unlike the bitter oranges at Lyntons!). It's one to read slowly and carefully so as to not miss nuances and the exquisite writing. It's full of tension and is really quite unsettling (in the best possible way). I have only good things to say about it – it's a triumph.
---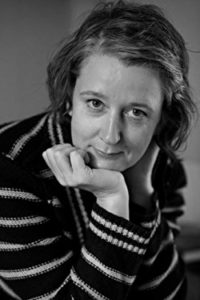 Claire Fuller is the author of Swimming Lessons (published 2017), which was shortlisted for the Encore Prize for second novels, and Our Endless Numbered Days (2015) which won the Desmond Elliott Prize for debut fiction. Her third novel, Bitter Orange was published in August 2018.
Author bio and picture taken from Amazon