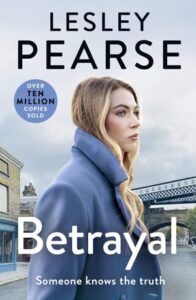 ShortBookandScribes #BookReview – Betrayal by Lesley Pearse #BlogTour #LoveLesley30
It's my stop on the blog tour for Betrayal by Lesley Pearse, one of my all-time favourite writers. My thanks to EDPR for the review copy and the place on the tour. Betrayal is published by Michael Joseph and available now in hardcover, ebook and audiobook.
---

---
Eve should never have married Don Hathaway. Young and lovestruck, he'd given her two precious children – Olly and Tabitha – but he's a bully. Worse than that, he is abusive. But, after one drunken rage too many, she realises if she doesn't leave, she will die.

With no money, or family to run to, she bravely summons the courage to escape and is helped by a network of women who give her sanctuary. The path is not easy but driven by the need to give her children a future, she starts to rebuild her life. Don, however, is bitter. And getting away entirely proves impossible. Until the day Eve tries to teach him a lesson – and it all goes horribly wrong.

Now, shouldering a terrible burden that she dares not share, Eve sets up a business in her newly adopted town of Sidmouth, and her fortunes go from strength to strength. New business, new home, new love. But how long before the past catches up with her? And how will she reconcile the fact that in relentlessly pursuing a better life, she may have betrayed not only her own, but her children's future happiness.
---

---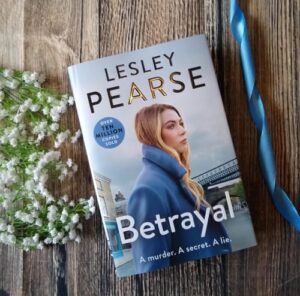 I've loved Lesley Pearse's books from the beginning. It's hard to believe Betrayal is book 31! It's just as good a read as all of the others.
Eve Hathaway is married to Don, a violent bully who regularly beats her. After one particularly bad beating, and knowing that he is starting to do the same to her son, Olly, Eve plucks up the courage to leave, taking Olly and his sister, Tabby, with her. A little further down the line Eve does something that I think any woman in her position would fully understand but which makes it hard for her to move on with her life.
I felt so sorry for Eve and her children but I loved how her character evolved as the story progressed and she started to get more confident in building a new life for herself. She found some really good friends and began to hope that she might even find love again. I really enjoyed the fact that she went from downtrodden to ambitious and I admired her for what she achieved.
What I loved more than anything about this book was that it was so easy to read, even considering the difficult subject matter. The beatings that Eve took are not the only shocking thing to happen and I didn't see the other thing coming so that was a complete surprise. I don't know how much research Pearse did but it all felt very real, especially the gamut of emotions the characters were experiencing.
Betrayal is one of Lesley Pearse's more contemporary books, set in the late 1990s/early 2000s and I didn't expect to like it quite as much as her historical ones but I absolutely loved it. I whizzed through it and found it hard to put down. I so wanted Eve to have a happy ending after all she went through. This is another brilliant read from an author who never lets me down.
---

---
---
---
Lesley Pearse was three years old when her mother died. With her father in the Royal Marines, Lesley and her older brother spent three years in orphanages before her father remarried and Lesley and her older brother were brought home again. They were joined by two other children who were later adopted by her father and stepmother, and a continuing stream of foster children. The impact of constant change and uncertainty in Lesley's early years is reflected in the recurring themes in her books: how emotional damage inflicted on children impacts the rest of their lives. Lesley had an extra-ordinary childhood and skilfully marries the pain and unhappiness of her early experiences with a unique gift for storytelling.
Lesley left home at 15 and headed to London where she worked her way through many jobs – from corsetry sales in Cooks of St. Pauls (featured in Dead to Me), to musician's muse (her second husband was a musician managed by Don Arden), to bunny girl to nanny; from gift shop owner to dressmaker – finally finding her true vocation when she became a published author age 49. Since then, Lesley has become an internationally bestselling author, with over 10 million copies of her books sold worldwide.
A true storyteller and a master of gripping storylines, there is no set formula for a Lesley Pearse novel although strong heroines and difficult circumstances are pervasive. Whether historical adventures such as Gypsy or Never Look Back or the passionately emotive Trust Me, Lesley is inspired by stories of courage and adversity and often gives voice to women lost in history. She is passionate about her research and her stories have taken her far and wide; from Alaska to the Crimea. Lesley now lives in Torquay, Devon where she loves to spend time walking on the beach with her grandchildren. A fantastic speaker and committed and passionate fundraiser for the NSPCC, Lesley is a much sought-after guest at literary lunches, library events and festivals up and down the country.