ShortBookandScribes #BookReview – Before Her Eyes by Jack Jordan
I'm reviewing Before Her Eyes by Jack Jordan today. This is my first book by this author but I'd heard so many good things that when it became available on The Pigeonhole I jumped at the chance to read it. My thanks to that site and Corvus for the opportunity.
---
She can't see the killer
But the killer can see her…

Naomi Hannah has been blind since birth. Struggling with living in a small, claustrophobic town, Naomi contemplates ending her life. But then she stumbles across the body of a young woman who has been brutally murdered. She senses someone else there at the scene – watching her. Naomi may not be able to see the killer's face, but she is still the only person who can identify him.

As the police begin hunting the person responsible and more victims are discovered, Naomi is forced to answer the question on which her fate hangs: why did the killer let her live?

In a town this small, the murderer must be close, perhaps even before her very eyes…
---

This is my first Jack Jordan book and what appealed to me particularly about Before Her Eyes was the fact that the protagonist, Naomi Hannah, is blind. It puts a different and unique slant on the story and in a town where murders are taking place and Naomi stumbles across the scene of one of them, it made for a creepy and scary premise.
Naomi knows every bit of the town where she lives and she finds her way around her house by memorising where everything is. But when she seems to have become a target for someone who is cruelly tormenting her, things take a much more sinister turn.
People are being killed and the police are a key part of this story, in particular DS Marcus Campbell who I liked immensely, and his superior, Lisa Elliott, who I didn't like at all. Marcus starts to wonder if the murders are linked to the disappearance of local girl, Hayley Mitchell, 20 years ago.
I thought this was a very readable crime thriller with an intriguing heroine and a twisty storyline. I loved how it all unfolded. I couldn't see where it was going and the end was a complete shocker. I did struggle a little with Naomi's blindness. There were elements of the story that I wasn't sure were how a person blind since birth would behave, but I'm only guessing and I presume the author did his research. I did get quite annoyed with her foolishness at times though – there was quite a bit of "for goodness sake, Naomi!" floating around in my head whilst I was reading. But it's certainly a page turning thriller and one which I was really intrigued by.
I'd definitely read another book by Jack Jordan. He certainly knows how to weave a twisted tale!
---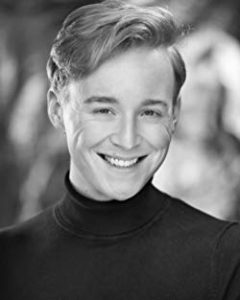 Jack Jordan is the global number one bestselling author of Anything for Her (2015), My Girl (2016), A Woman Scorned (2018), and Before Her Eyes (2018).
To find out more about Jack, enter numerous annual giveaways to win signed copies of his books, and be one of the first to hear of new book releases and news, follow him here:
Author information and photo taken from Amazon