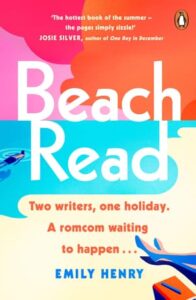 ShortBookandScribes #BookReview – Beach Read by Emily Henry
Beach Read by Emily Henry was published on 20th August 2020 by Viking and is available in paperback, eBook and audiobook.
---

---
January is a hopeless romantic who narrates her life like she's the lead in a blockbuster movie.

Gus is a serious literary type who thinks true love is a fairy-tale.

But January and Gus have more in common than you'd think:

They're both broke.
They've got crippling writer's block.
And they need to write bestsellers before summer ends.

The result? A bet to swap genres and see who gets published first.
The risk? In telling each other's stories, their worlds might be changed entirely…

Set over one sizzling summer, Beach Read is a witty love story that will make you laugh a lot, cry a little and fall head over heels. For fans of The Flat Share and If I Never Met You.
---

---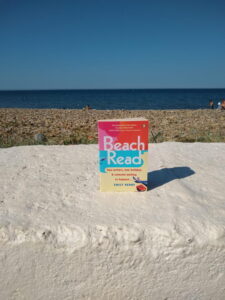 I've been meaning to read Beach Read since it was first published. A sizzling hot book about two authors sounded right up my street.
January is the author of romantic novels with happy ever after endings. Gus writes literary novels. They have history when they meet again after January finds herself in a beach house due to some sad events in her life. She's unable to write and he's struggling too and despite initially being a bit scathing of the other's writing style, they decide to try and write books in the other's genre and see who can sell their book first.
I was expecting something really light and funny and although this book did make me laugh on a few occasions, it's got unexpected sadness in it. There's a lot going on individually with January and Gus and I wasn't sure if they could get over that. My favourite parts were when they verbally sparred with each other, leading to some seriously smoking hot chemistry between the two of them.
I liked this book and found it a quick and enjoyable read. January tells the story in the first person and I found her hard to truly get to know and very introspective. Gus on the other hand comes out of it extremely well indeed (just excuse me while I get a fan please). I loved the set up of how they were living and the little notes they used to communicate. Definitely lots of rom and some com, but Beach Read is more than that: a love story, a story of family secrets and friendship. There's a warmth to it, a sense of healing and coming out the other side ready to move on and try to love again.
---
---
Emily Henry is the author of the butterfly-inducing romantic comedies Beach Read and You & Me on Vacation, both of which were New York Times bestsellers. She studied creative writing at Hope College and now lives and writes in the American Midwest. She has featured in Prima, Elle, Woman & Home, The Independent (among others) and Jodi Picoult calls her 'my newest automatic-buy author.' Book Lovers is her third novel.