ShortBookandScribes #BookReview – Ask No Questions by Claire Allan
My review today is of Ask No Questions by Claire Allan. My thanks to Becci Mansell from Avon for the review copy of the book.
---

---
Not all secrets are meant to come out…

Twenty-five years ago, on Halloween night, eight-year-old Kelly Doherty went missing while out trick or treating with friends.
Her body was found three days later, floating face down, on the banks of the Creggan Reservoir by two of her young classmates.
It was a crime that rocked Derry to the core. Journalist Ingrid Devlin is investigating – but someone doesn't want her to know the truth. As she digs further, Ingrid starts to realise that the Doherty family are not as they seem. But will she expose what really happened that night before it's too late?
---

---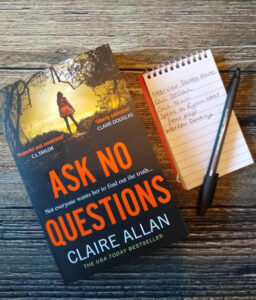 Ingrid Devlin remembers it well, that night 25 years ago when 8 year old Kelly Doherty went missing and was later found murdered. Now Ingrid is a journalist at The Chronicle in Derry and is tasked with writing an anniversary piece for the paper. However, a bit of digging makes her start to question everything she thought she knew about the case and puts her back in touch with people from her childhood who are connected with it.
I always enjoy a Claire Allan book and Ask No Questions is no exception. It's a gripping crime/psychological thriller which kept me guessing as much as it did Ingrid. I found it so intriguing to see how she, along with others who were children at the time, started to question their childhood memories. I'm sure we've all looked back on incidents from our childhood and realised that what we thought they meant wasn't quite accurate.
Ingrid is quite a character. She's a tenacious journalist, one who tries to keep her morals but doesn't always manage to do so in pursuit of a good story. I thought she was brave bordering on foolish most of the time but she's an excellent protagonist and one I'd love to see again in a future book. The majority of the story is told by Ingrid but there are some chapters about Declan, one of her childhood contemporaries and someone very close to the case. This narrative sharing worked really well to tell the story of then and now.
I found Ask No Questions to have quite an ominous feel to it and the author did a fantastic job at ramping up the tension and the unease. I particularly liked following Ingrid's investigations and how she went about digging into Kelly's death, and I really enjoyed the many twists and turns to the story before it reached its conclusion.
---
---
Claire Allan is a Northern Irish author who lives in Derry~Londonderry.
She worked as a staff reporter for the Derry Journal for 17 years, covering a wide array of stories from court sessions, to the Saville Inquiry into the events of Bloody Sunday, health and education and human interest features.
She wrote her first novel in 2006, to mark her 30th birthday and it (Rainy Days and Tuesdays) was subsequently published and became an instant bestseller in 2007.
Claire wrote seven further women's fiction novels between 2007 and 2015. In 2016 (when she turned 40) she decided to change genre and try her hand at domestic noir. Her first domestic noir novel, Her Name Was Rose was published by Avon/ HarperCollins in 2018 and became a bestseller in the UK, Canada, Australia and was a USA Today bestseller.
It was subsequently nominated in the Dead Good Reader Awards in 2019.
Claire has followed up on the success of Her Name Was Rose with Apple of My Eye, Forget Me Not, The Liar's Daughter, and Ask No Questions.
Claire still lives in Derry with her husband, two children, two cats and a very spoiled puppy.