ShortBookandScribes #BookReview – Ask Again, Yes by Mary Beth Keane @MichaelJBooks #BlogTour
Ask Again, Yes is one of the big hitters of the summer and I'm delighted to be sharing my review of this fabulous read with you today. My thanks to Sriya Varadharajan from Michael Joseph for the place on the tour and for sending me a proof copy of the book for review purposes.
---
A gripping and compassionate drama of two families linked by chance, love and tragedy

Gillam, upstate New York: a town of ordinary, big-lawned suburban houses. The Gleesons have recently moved there and soon welcome the Stanhopes as their new neighbours.

Lonely Lena Gleeson wants a friend but Anne Stanhope – cold, elegant, unstable – wants to be left alone.

It's left to their children – Lena's youngest, Kate, and Anne's only child, Peter – to find their way to one another. To form a friendship whose resilience and love will be almost broken by the fault line dividing both families, and by the terrible tragedy that will engulf them all.

A tragedy whose true origins only become clear many years later . . .

A story of love and redemption, faith and forgiveness, Ask Again, Yes reveals the way childhood memories change when viewed from the distance of adulthood – villains lose their menace, and those who appeared innocent seem less so. 

A story of how, if we're lucky, the violence lurking beneath everyday life can be vanquished by the power of love.
---

I hardly know where to begin to review this book. I think it's one that will keep coming back to me over the next few days, so immersed in the characters' lives was I.
It's the story of the Gleesons and the Stanhopes. Both families live in New York but have Irish backgrounds. Francis Gleeson and Brian Stanhope are both cops. Both families have young children. They live on the same street in Gillam, upstate New York. It seems like they're all bound to be great friends, linked as they are by a short period of time when the two men worked closely together. However, it quickly becomes clear that here we have two families who are following a similar path and yet on that path is a fork leading one set of people one way and the others in another direction entirely.
A shocking incident is the event that cements that division. However, Kate Gleeson and Peter Stanhope, the youngest/only children of the families have a bond, a friendship and maybe something more that might just endure.
This is very much a character led story. There is a plot but it's much more a slice of life story, a look at family life and how those families deal with all that is thrown at them. It's also a thought-provoking story of how much what happens in childhood can ripple down over the years, how the same mistakes can be made and whether that is down to nature or nurture.
Despite some of the turmoil contained within the pages, this is actually what I would call a quiet book. It's kind of steady and really quite beautifully written. It's a slow read, and I say that not in a derogatory way, but in that it's one which requires concentration, one that needs focus. It took me a little longer to read than I expected but I don't for one minute regret the time I spent on it. The slice of life feel to it is enhanced by the ending which doesn't exactly feel like a conclusion, more just a point in the characters' lives where the author decided to stop writing about them. Again, this is not a criticism at all – it works.
Ask Again, Yes is an impressive tale of family and what it means. It has characters that I was rooting for, was hopeful for, and ultimately it's an uplifting story of love, humanity and solidarity. I enjoyed it very much indeed.
---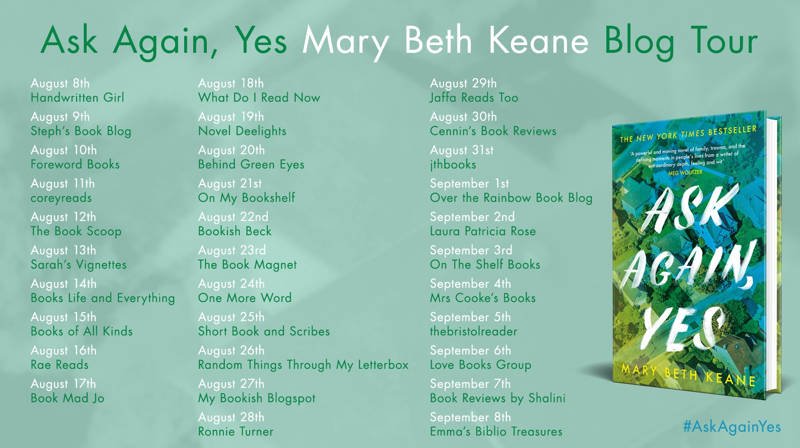 ---

Mary Beth Keane attended Barnard College and the University of Virginia, where she received an MFA. In 2011, she was named one of the National Book Foundation's "5 under 35," and in 2015 she was awarded a John S. Guggenheim fellowship for fiction writing. She currently lives in Pearl River, New York with her husband and their two sons. She is the author of The Walking People, Fever, and Ask Again, Yes.