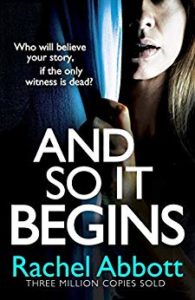 ShortBookandScribes #BookReview – And So It Begins by Rachel Abbott
Thank you for stopping by to read my review of And So It Begins, my first Rachel Abbot book. My thanks to the publishers, Wildfire, and The Pigeonhole for the opportunity to read it.

Cleo knows she should be happy for her brother Mark. He's managed to find someone new after the sudden death of his first wife – but something about Evie just doesn't feel right…

When Evie starts having accidents at home, her friends grow concerned. Could Mark be causing her injuries? Called out to their cliff-top house one night, Sergeant Stephanie King finds two bodies entangled on blood-drenched sheets.

Where does murder begin? When the knife is raised to strike, or before, at the first thought of violence? As the accused stands trial, the jury is forced to consider – is there ever a proper defence for murder?
---
I am new to Rachel Abbot's work, although I know how well-respected she is as an author. I believe And So It Begins is her first psychological thriller and so I was really keen to make this my first Abbot.
It's a fabulous read and one which intrigues from start to finish. It's a masterclass in revenge and we never know who to trust, who is telling the truth and who is lying.
The story begins with two police officers attending a bloody scene in a bedroom in a house by the side of a cliff. From there, we travel back to see what led to that scene. Evie Clarke is the main protagonist and we hear from her throughout in the first person. She's in a relationship with photographer, Mark North, whose sister is Cleo. Cleo is very protective of Mark due to their early years together and she never really takes to Evie, especially when Evie starts to have 'accidents' and suspicion falls on Mark. The dynamic between this trio is fascinating throughout the book and they're three very cleverly written characters.
From the start this is a fast paced story. It's full of twists and turns and centres very much around relationships and how intense and difficult they can be at times. It's a book that crams so much into its 416 pages. We have a death, we have the complications of family, we have a police investigation and we have a courtroom drama. It's just such compelling reading. I found the courtroom scenes the most thrilling as the reader begins to learn so much about Evie's past.
And So It Begins is tense and gripping, exciting to read and a book that throws up so many questions before it answers them. I loved it!
---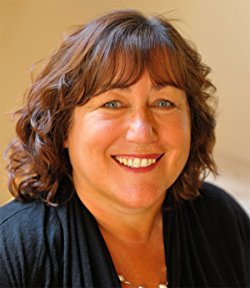 Rachel Abbott's debut thriller, Only the Innocent, was an international bestseller, reaching the number one position in the Amazon charts both in the UK and US. This was followed by the number one bestselling novels The Back Road, Sleep Tight, Stranger Child, Nowhere Child (a short novel based on the characters from Stranger Child), Kill Me Again and The Sixth Window. Her most recent novel, Come a Little Closer, is available from February 2018.
Rachel's novels have now been translated into over 20 languages and her books have sold over 3 million copies in the English language.
In 2015 Amazon celebrated the first five years of the Kindle in the UK, and announced that Rachel was the #1 bestselling independent author over the five-year period. She was also placed #14 in the chart of all authors. Stranger Child was the most borrowed novel for the Kindle in the first half of 2015.
Rachel splits her time between Alderney – a beautiful island off the coast of France – and the Le Marche region of Italy, where she is able to devote all her time to writing fiction. For more information, see Rachel's website, or follow her on Twitter.
Author photo and bio taken from Amazon