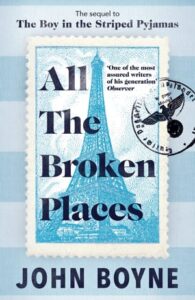 ShortBookandScribes #BookReview – All the Broken Places by John Boyne
All the Broken Places by John Boyne will be published by Doubleday on 15th September 2022 in hardcover, eBook and audiobook. My huge thanks to Lilly Cox for sending me a proof.
---

---
Ninety-one-year-old Gretel Fernsby has lived in the same mansion block in London for decades. She leads a comfortable, quiet life, despite her dark and disturbing past. She doesn't talk about her escape from Germany over seventy years before. She doesn't talk about the post-war years in France with her mother. Most of all, she doesn't talk about her father, the commandant of one of the most notorious Nazi concentration camps.

Then, a young family moves into the apartment below her. In spite of herself, Gretel can't help but begin a friendship with the little boy, Henry, though his presence brings back memories she would rather forget. One night, she witnesses a violent argument between Henry's mother and his domineering father, one that threatens Gretel's hard-won, self-contained existence.

Gretel is faced with a chance to expiate her guilt, grief and remorse and act to save a young boy – for the second time in her life. But to do so, she will be forced to reveal her true identity to the world. Will she make a different choice this time, whatever the cost to herself?

All the Broken Places is a devastating, beautiful story about a woman who must confront the sins of her past and a present in which it is never too late for bravery.
---

---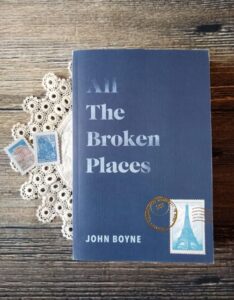 All the Broken Places is a sequel to John Boyne's classic book, The Boy in the Striped Pyjamas. However, where that book was aimed primarily at children, All the Broken Places is an adult book focusing on Gretel, the older sister of Bruno, the boy who nobody who has read The Boy in the Striped Pyjamas can forget. This is a book that John Boyne had been thinking of writing since The Boy in the Striped Pyjamas was published and it truly is a triumph.
Gretel is 91 and living in a flat in London when a family, including a 9 year old boy named Henry, move into the flat below her. She's kept herself to herself over the years, not wanting to draw attention to herself or her shocking past, but the arrival of Henry leads her to make decisions that threaten to shake her life to its very core.
Gretel's story is told in the present day but also with sections going back to Paris just after the war, Sydney a little later, and then London in the 1950s, giving a real sense of the direction Gretel's long life has taken. Whilst not always the most sympathetic character, I absolutely loved Gretel, a quite feisty yet secretive woman whose bold voice stands out. My favourite sections were set in the present day as she meets with her neighbour and her son, and gets to know Henry. But there's such darkness to the story too, with Henry having an unsettled home life which impacts on Gretel's hard-won privacy, and of course there is the legacy of the evil she encountered in her childhood in Berlin and 'that other place'.
This is another wonderful book from Boyne who never fails to delight me with his extremely varied yet consistently brilliant stories. All the Broken Places most notably asks the questions: are we responsible for the sins of our fathers and are we culpable if we know of atrocities but choose self-preservation? Incredibly thought-provoking and moving, I thought this was a sweeping and magnificent read.
---
---
John Boyne was born in Ireland in 1971. The winner of three Irish Book Awards, he is the author of thirteen novels for adults, six for younger readers and a collection of short stories. The international bestseller The Boy in the Striped Pyjamas was made into a Miramax feature film and has sold more than eleven million copies worldwide. His novels are published in 58 languages. He lives in Dublin. www.johnboyne.com.