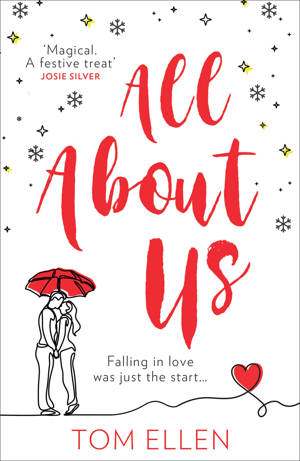 ShortBookandScribes #BookReview – All About Us by Tom Ellen
My review today is of All About Us by Tom Ellen. My thanks to HQ Stories for sending me a copy of the book for review purposes.
---

---
Ben's always loved December, but this year, with his relationship with Daphne on the rocks, it's missing its usual magic. So when he runs into his old friend Alice – the one that got away – Ben can't help but wonder what would have happened if he'd done things differently all those years ago.

He never imagines he might get to find out… but when a stranger sells Ben a mysterious watch one freezing winter's night, he's astonished to wake up the next morning on 5th December 2005: the day he first kissed Daphne, leaving Alice behind.

Now Ben must make the biggest decision of his life, all over again. But this time around, will he finally find the courage to follow his heart?

Two loves. Two lives. One destiny…
---

---
All About Us is one of those books I was excited about as soon as I heard about it. A time-travelling love story? Count me in! Set in December, it is a suitable festive read but it can easily be read at any time of the year.
Ben's relationship with his wife, Daphne, is on the rocks. Somewhere along the line he's lost sight of what he loved so much about her over the years. A combination of loss, apathy, drifting, and taking everything for granted has left them struggling and who knows what the future brings for them. The reappearance of the one who got away, Alice, compounds everything Ben is feeling and makes him wonder if he ended up with the wrong person.
Haven't we all wondered what would have happened if we had taken a different path to the one we chose? Ben gets to find out by travelling to different Decembers in his life, experiencing the same things but seeing them from a new perspective. In doing so he learns some cold hard truths about himself.
Even though the author admits he borrowed from A Christmas Carol when writing this book, I thought it was quite an original and contemporary idea and I really enjoyed following Ben on his time-travel adventures. Although a fairly light read it does deal with some serious emotions and it did tug on my heartstrings a few times.
All About Us is an engaging romance with a premise that I really enjoyed. I thought Tom Ellen's writing was sensitive when it came to Ben's marriage, his mum and his best friend, Harvey, but it also had a humorous edge to it and some sharp characterisations. It's a delightful story, one that is ultimately feel-good and charming.
---
---
Tom is an author and journalist from London, England. He is the co-writer of three critically acclaimed Young Adult novels: LOBSTERS (which was shortlisted for The Bookseller's inaugural YA Book Prize), NEVER EVERS and FRESHERS. His solo adult debut novel is the romantic comedy ALL ABOUT US (HQ/HarperCollins, published October 2020). His books have been widely translated and are published in 20 countries. He is a regular contributor to Viz magazine, and has also written for Cosmopolitan, Empire, Evening Standard Magazine, The Daily Mash, Glamour, NME, ESPN, ShortList, Time Out London, Vice, Stylist and many more.