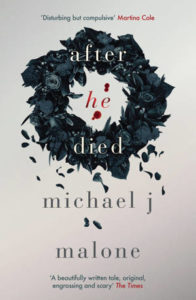 ShortBookandScribes #BookReview – After He Died by Michael J Malone @michaelJmalone1 @OrendaBooks #RandomThingsTours #BlogTour
I'm very pleased to be sharing my review of After He Died by Michael J Malone today, as part of the blog tour. My thanks to Orenda Books for the review copy and to Anne Cater of Random Things Tours for the place on the tour.

You need to know who your husband really was…

When Paula Gadd's husband of almost thirty years dies, just days away from the seventh anniversary of their son Christopher's death, her world falls apart. Grieving and bereft, she is stunned when a young woman approaches her at the funeral service, and slips something into her pocket. A note
suggesting that Paula's husband was not all that he seemed…

When the two women eventually meet, a series of revelations challenges everything Paula thought she knew, and it becomes immediately clear that both women's lives are in very real danger. Both a dark, twisty slice of domestic noir and taut, explosive psychological thriller, After He Died is also a chilling reminder that the people we trust the most can harbour the deadliest secrets…
---
This is my third read by Michael J Malone and what strikes me is what a versatile writer he is. Each of the books has been quite different in story and tone.
The 'he' in After He Died is Thomas Gadd, husband to Paula. He dies suddenly and Paula finds herself alone for the first time in thirty years. their precious only son, Christopher, having died seven years earlier. At Thomas's funeral, a chain of events is set off which leads to Paula becoming slowly aware that there were many secrets in the background of the comfortable life she thought she had.
The big question posed here is: can you ever really know somebody? Paula thought she knew everything about Thomas but she was living in blissful ignorance. The author really plays on the fact that so much can be hidden, even from the one who knows you best and with whom you share your entire life.
There was much that I liked about After He Died and one or two things that didn't sit as well with me. I thought the plot was clever, intricate and well thought out, but there's a seedy gangster/corruption side of it that was a bit out of my comfort zone. I liked Paula, the innocent wife and Father Joe Gadd, Thomas's youngest brother, and I particularly liked their friendship. But there's a sub-plot featuring a young woman called Cara Connolly and somehow her side of it didn't quite work for me. I think the strongest part of the story is the way Paula slowly found out about all the secrets that were lurking behind the veneer of her marriage. This side of the book was much more domestic noir and much more up my street.
Overall, I found After He Died to be thrilling and shocking in equal measure. Malone is definitely not one to shy away from hard-hitting storylines. Much of what took place was a surprise to me. Whilst this book was not my favourite of his (for that read House of Spines) I recognise the quality of his writing and the ability to craft an intensely gripping tale.
---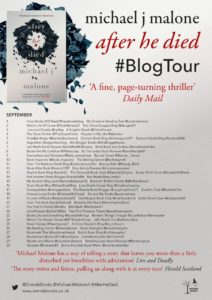 ---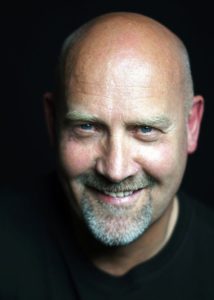 Michael Malone is a prize-winning poet and author who was born and brought up in the heart of Burns' country. He has published over 200 poems in literary magazines throughout the UK, including New Writing Scotland, Poetry Scotland and Markings. Blood Tears, his bestselling debut novel won the Pitlochry Prize from the Scottish Association of Writers. Other published work includes:
Carnegie's Call; A Taste for Malice; The Guillotine Choice; Beyond the Rage; The Bad Samaritan and Dog Fight. His psychological thriller, A Suitable Lie, was a number-one bestseller, and the critically acclaimed House of Spines soon followed suit. A former Regional Sales Manager (Faber & Faber) he has also worked as an IFA and a bookseller.