ShortBookandScribes #BookReview – Adventures of Calypso by Monty C. Floyd #childrensbooks
I'm sharing my review of this lovely children's story today. My thanks to the author for sending me a copy of the book for review purposes.
---

---
Being an energetic puppy, Calypso chases a nasty rat into a boxcar where he is locked inside and swept away from his owner. Now alone in a bustling city, Calypso meets a cute terrier named Audrey. However, she must return to her home in another town leaving Calypso with a decision: stay or follow Audrey?

Adventures of Calypso is a fun and adventurous "Lassie" type of story showcasing that friendship comes in all kinds of packages. Calypso's adventure takes him to the big city where he learns about life on the street and the dangers it presents – angry tomcats, dogcatchers, and more, but also the importance of friendships, especially between those who are different.
---

---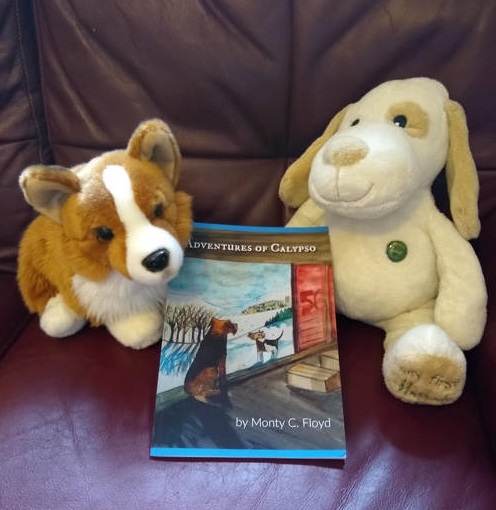 Adventures of Calypso is a sweet and touching story about a Welsh Terrier who goes on quite the adventure.
One day, Calypso chases away a rat and ends up being transported away from his owner, Dylan, into the big city. He meets another dog named Audrey who he really likes but she's on her way out of the city. Calypso doesn't know what to do. Should he follow her or try and find his way home?
There are some really nice messages in this short read for children. It shows the value of friendship as Calypso meets various dogs and a rat who help him on his journey and they look out for him in the unfamiliar territory and when he meets some animals who are less than friendly.
I was rooting for Calypso to get a happy ending. I wasn't sure if it would be the ending I hoped for but just at the last minute it was! The author suggests it's a 'Lassie' type of story and it definitely has that feeling of intelligent animals trying to solve a problem. It's aimed at 7-11 year old children and that feels quite accurate for them if they are reading on their own. My son is 6 and understood the nature of the story but might have struggled a little with reading the whole thing himself. It's a storybook without pictures so definitely for the slightly older child I think.
All in all I thought Adventures of Calypso was a delightful and heart-warming story. You can't really go wrong with a tale like this of friendship amongst animals.
---
---
I am originally from Texas but currently live in Germany with my wife and three children, and our Welsh Terrier, Calypso. I have travelled the world, lived in four countries gathering stories, inspiration and unique points of view. While juggling the kids I'm working on Outcast Otter children's travel world, feature films, Carltons "Jet Set" Web Series, and a children's literacy/empowerment foundation concept for Tanzania centered on characters and story-telling for young girls and dropouts.
I have recently released a children's book, Adventures of Calypso, while finishing two others; one a middle grade fantasy trilogy, and a romantic comedy, in addition, penned Dancing Pajamas, a bedtime story for an Austrian hotel.
In the last six months, five of my scripts have placed in 13 film contests.
I like to create, and best to work with a creative team.