ShortBookandScribes #BookReview – A Wedding in Provence by Katie Fforde #BlogTour
A Wedding in Provence is out now, published by Penguin in paperback, priced £8.99. It's also available in eBook and audiobook. My thanks to EDPR and the publishers for the review copy of the book and the place on the blog tour.
---

---
Can love at first sight, lead to happy ever after?

1963. Alexandra is in Paris – the city of love – for a short break before she heads to a Swiss finishing school that her relations are insisting she attends.

Hoping to extend her time in the city, she accepts a job as a nanny; only to discover that the position is, in fact, at a chateau in Provence, and her employer is an impossibly good-looking French Comte. With no nannying experience and three silent, unfriendly children awaiting her care, Alexandra certainly has a challenge on her hands – but she's ready to step up and do the best she can, if only to delay her arrival in Switzerland.

Once she settles into the beautiful chateau she soon warms to the children and, finding that they don't go to school, sends for her friend David to help tutor them English, who brings his friend Jack to teach music and maths. All seems to be going well, until their father Antoine arrives home – and Alexandra realises she is inappropriately but rapidly falling in love . . . As Christmas approaches, can Alexandra be true to her feelings?
---

---
A Katie Fforde book is always a joy to read and A Wedding in Provence is no exception. Set in 1963, it follows Alexandra, a young woman on her way to a finishing school in Switzerland. A short stop in Paris leads to her making a new friend and she ends up taking a position as a nanny to the children of a Count at a chateau in Provence.
There's something so lovely about this story and it felt a bit like a fairytale. I've seen it described as being like The Sound of Music and I'd definitely agree that it shares many of the same attributes and is a similarly delightful way to spend time. It's a light read crammed with new experiences for Alexandra, delicious food and a gorgeous, if slightly rundown, setting. I loved all the characters, especially the Count himself, Antoine, who is a rather dashing, strong Frenchman.
It all moves along at a nice pace, with relationships being developed and changes starting to be made at the chateau. Alexandra is a breath of fresh air for the place as she starts to really settle in and develop feelings for not only the children she is responsible for, but their father too. Fforde transported me to Provence and the chateau and brought the whole setting to life. I could almost imagine I was sat around the kitchen table with a croissant and a glass of rosé.
This is the perfect read if you want to escape to the French countryside with a hint of romance, some feisty female characters, some great kids and some cute animals. I enjoyed it very much and was reminded of the easy charm of a Katie Fforde book.
---

---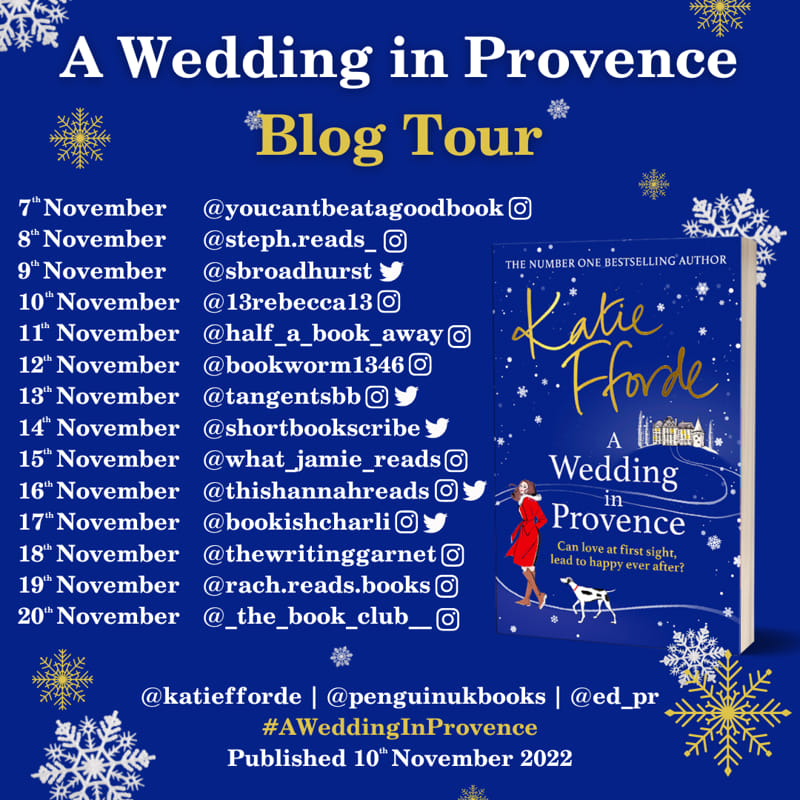 ---
---
KATIE FFORDE is a #1 bestselling author and has sold over 4.5 million books in the UK alone. She lives in the beautiful Cotswold countryside with her family and is a true country girl at heart. Each of her books explores a different profession or background and her research has helped her bring these to life.
She's been a porter in an auction house, tried her hand at pottery, refurbished furniture, delved behind the scenes of a dating website, and she's even been on a Ray Mears survival course. She loves being a writer; to her there isn't a more satisfying and pleasing thing to do. She particularly enjoys writing love stories. She believes falling in love is the best thing in the world, and she wants all her characters to experience it, and her readers to share their stories.
To find out more visit www.katiefforde.com and follow her on Twitter @KatieFforde.