ShortBookandScribes #BookReview – A Sliver of Darkness by C.J. Tudor
A Sliver of Darkness by C.J. Tudor is published by Michael Joseph and available now in hardcover, eBook and audiobook. My thanks to the publishers for the review copy.
---

---
A creak of the floorboard, a shiver down your spine, the feeling that you're not alone . . .
_________

Join a group of survivors who wash up on a deserted island only to make a horrifying discovery.

Meet a cold-hearted killer who befriends a strange young girl at a motorway service station.

Travel along eerie country lanes in a world gone dark, enter a block of flats with the most monstrous of occupants and accompany a ruthless estate agent on a house sale that goes apocalyptically wrong.

These eleven twisted tales of the macabre from the bestselling author of The Chalk Man and The Burning Girls are your perfect companions as the nights draw in . . .

If you're brave enough.
---

---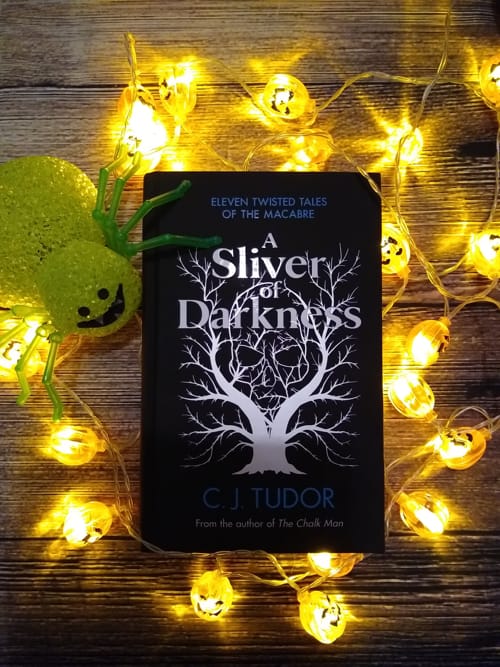 If I start this review by saying that I don't really like short stories then you might be wondering why on earth I chose to read A Sliver of Darkness, described as 'eleven twisted tales of the macabre'. The reason is simple: the stories are by C.J. Tudor, a sublime and talented storyteller and one whose full-length novels I have read and loved.
Of the eleven stories I can honestly say there isn't a duff one amongst them. That said, I did have my favourites, two of which had similarly aged protagonists and storylines (think groups of kids going places where they shouldn't).
The Block plays on that strange allure of abandoned buildings, both eerie and fascinating. This story really sent chills down my spine as four friends discover more than they bargained for.
The Lion at the Gate also follows four boys who discover a graffitied lion painted on a gate. This story questions whether what you can see can be trusted. Is the mind playing tricks on these boys or is the lion more sinister than they realise?
The stories vary in length and perhaps the shortest is I'm Not Ted which I thought was a clever tale of the dangers of temptation. I also particularly liked the salutary tale, The Copy Shop, and Final Course, in which friends from years ago meet again in a dystopian world.
Each story has an introduction from the author which I felt helped me to really engage with them. The collection as a whole is a perfect mixture of horror, the apocalyptic, and crime, with morals such as being careful what you wish for, and be kind to others or you reap the consequences, coming into play. I thought it was a fine set of dark and often twisted tales, each one individual and entertaining.
---
---
C. J. Tudor's love of writing, especially the dark and macabre, started young. When her peers were reading Judy Blume, she was devouring Stephen King and James Herbert.
Over the years she has had a variety of jobs, including trainee reporter, radio scriptwriter, dog walker, voiceover artist, television presenter, copywriter and, now, author.
C. J. Tudor's first novel, The Chalk Man, was a Sunday Times bestseller and sold in over forty countries. Her second novel, The Taking of Annie Thorne, was also
a Sunday Times bestseller as was her third novel, The Other People. All three books are in development for TV. Her fourth novel, The Burning Girls, was a Richard and Judy Book Club selection and has been adapted for television by award-winning screenwriter Hans Rosenfeldt (creator of The Bridge and Marcella). It will debut on Paramount Plus in 2023. The Drift is her fifth novel and has also been optioned for the screen. C.J. Tudor is also the author of A Sliver of Darkness, a collection of short stories.
She lives in Sussex with her family.
Twitter @CJTudor
Facebook @CJTudorOfficial