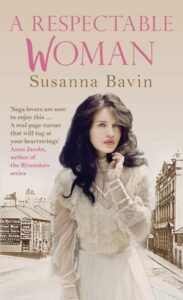 ShortBookandScribes #BookReview – A Respectable Woman by Susanna Bavin
A Respectable Woman by Susanna Bavin was published by Allison & Busby and is available in paperback, ebook and audiobook. My thanks to the author for sending me a copy for review.
---

---
After losing her family in the Great War, Nell is grateful to marry Stan Hibbert, believing she can recapture a sense of family with him. But five years on, she is just another back-street housewife, making every penny do the work of tuppence and performing miracles with scrag-end. When she discovers that Stan is leading a double-life, she runs away to make a fresh start. Two years later, in 1924, Nell has carved out a fulfilling new life for herself and her young children in Manchester, where her neighbours believe she is a respectable widow and a talented machinist. But the past is hard to run from, and Nell must fight to protect the life she has made for herself and her children.
---

---
This is the fourth and final book by Susanna Bavin that I have read and reviewed. I've loved all of them but A Respectable Woman is probably my joint favourite along with The Sewing Room Girl.
Nell Hibbert is married to Stan and has a young son, Alf. She goes out grafting, cleaning in a pub, to help the family make ends meet. However, finding out that Stan is living a second life that seems better than the one that she has with him pushes Nell to the limit and she runs away, taking Alf with her. In 1922 leaving your husband wasn't the done thing so she tells new acquaintances that she is a widow and gets on with starting a new life for herself. Of course, eventually the past catches up with her and Nell has to start a new fight, one to keep her family and all she has worked for safe.
This is one of those books that I didn't want to put down and a rare one where I didn't find myself keeping an eye on the page numbers. I was utterly engrossed in Nell and the new life she built for herself in Manchester. She's something of a trailblazer for the time, ambitious and determined to succeed and make a good life for herself. I loved Nell. Nothing seemed to keep her down for long and I was willing her to thrive and to continue achieving far more than her gender and class expectations.
There are many other characters to love in this book and a couple to hate too. My favourite was Jim, a man who returned from the Great War wishing to do more to help other people. I also liked the older women – Nell's landlady and her neighbours – who are pure salt of the earth types who will help anyone in need, and Posy, the landlady's plucky young granddaughter. The least said about Edmund the better, only that he's a very convincingly written villain.
Bavin had me hooked on Nell's story from page one and I was sad when it came to an end. If you like historical fiction/sagas then you're sure to love A Respectable Woman. This is a story that I found completely absorbing and I felt like I could step between the pages into a world that that felt real. I enjoyed it so much.
---
---
Susanna Bavin is originally from Manchester and her writing is strongly inspired by her Mancunian roots. She now lives in Llandudno in North Wales and is a keen member of the RNA. The Deserter's Daughter is her first novel.