ShortBookandScribes #BookReview – A Net for Small Fishes by Lucy Jago
Today I'm sharing my thoughts about A Net for Small Fishes by Lucy Jago. My thanks to Ros Ellis and Ella Harold from Bloomsbury for the proof copy of the book for review purposes. The book is available now in hardcover, ebook and audiobook.
---

---
Frances Howard has beauty and a powerful family – and is the most unhappy creature in the world.

Anne Turner has wit and talent – but no stage on which to display them. Little stands between her and the abyss of destitution.

When these two very different women meet in the strangest of circumstances, a powerful friendship is sparked. Frankie sweeps Anne into a world of splendour that exceeds all she imagined: a Court whose foreign king is a stranger to his own subjects; where ancient families fight for power, and where the sovereign's favourite may rise and rise – so long as he remains in favour.

With the marriage of their talents, Anne and Frankie enter this extravagant, savage hunting ground, seeking a little happiness for themselves. But as they gain notice, they also gain enemies; what began as a search for love and safety leads to desperate acts that could cost them everything.

Based on the true scandal that rocked the court of James I, A Net for Small Fishes is the most gripping novel you'll read this year: an exhilarating dive into the pitch-dark waters of the Jacobean court.
---

---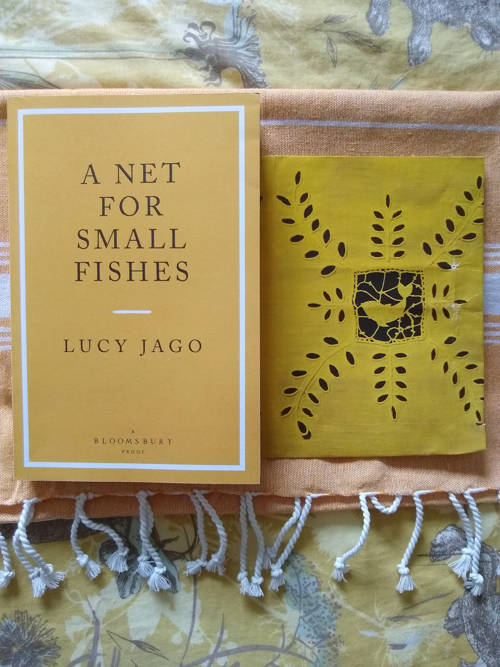 They say that truth is stranger than fiction. A Net for Small Fishes is based on a true scandal and it really is a fascinating read. Lucy Jago has clearly done a lot of research to bring this story to life.
Two women: Frances Howard, Countess of Essex, and Mistress Anne Turner. As the book begins Anne is brought to Frances to help style her and a firm friendship is established between them immediately, despite an age difference, a class difference, and the fact they don't have much in common. Dubbed the Thelma and Louise of the seventeenth century, these are two women who form a kind of sisterhood and have each other's backs throughout all that is in store for them in their complicated lives.
I loved the dynamic between the two characters and what they became to each other. For Anne, Frankie brought colour to her life and Anne becomes a surrogate mother/older sister to Frankie. There is so much to their stories and I don't want to give it all away here, but their friendship causes them to make some poor decisions and leads ultimately to that scandal mentioned before, which is shocking in so many ways.
I did find perhaps the first half of the book took me longer to read than I expected and I think that's purely down to the scene-setting and character introduction that has to take place to draw the reader into the lives of these two amazing women. I became fully immersed in their stories and despite some rather dubious life choices I only ever wanted them to succeed and be happy. In short, I cared about them. The ending caused many tears, not least because of the appalling treatment of women at the time.
I particularly enjoyed the fashion (Anne was responsible for introducing the saffron-yellow colour to court), the intrigue, the way that fortune rested on a knife-edge for the two protagonists. This is a story that is rich with detail and atmosphere, and it put me right there in the midst of the action with Anne and Frankie.
A Net for Small Fishes is an engrossing and accomplished piece of historical fiction giving voice to two incredibly feisty, trail-blazing women. I'd never heard of them before I read it but I certainly won't forget them now.
---
---
Lucy Jago is an award-winning writer of fiction and non-fiction and Fellow of the Royal Literary Fund. Her first book, The Northern Lights, won the National Biography prize and has been translated into eight languages. She was awarded a Double First Class Honours Degree from King's College, University of Cambridge, and a master's degree from the Courtauld Institute, London. She lives in Somerset.