ShortBookandScribes #BookReview – A Home from Home by Rosie Hendry
A Home from Home by Rosie Hendry is available now in paperback, eBook and audiobook. My thanks to the publishers, Sphere, for the review copy of the book.
---

---
Norfolk, 1944

Land Girls, Phylly and Gracie, have become the best of friends – but war work is never easy at Catchetts Farm . . .

Poor Gracie wakes each morning worrying about whether she'll ever get to see her airman husband again. And Phylly is trying – and failing – to encourage Jimmy, an evacuee from London, to open up about his heartbreaking past.

When they meet Edwin, a handsome airman from the American Airforce, it soon becomes clear that Jimmy isn't the only one playing his cards close to his chest. But what could Edwin wish to hide from the girls?

Being a Land Girl means back-breaking work in all weathers, and the girls are determined want to do their bit to support the war effort. As their hardship grows, will the friendship between Phylly and Gracie be strong enough to see them through?

A Home from Home is the perfect wartime family saga, filled with heart-warming friendships and a courageous make-do-and-mend attitude. Perfect for fans of Donna Douglas and Elaine Everest.
---

---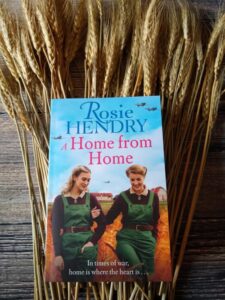 A Home from Home is a warm-hearted and cosy story about two Land Girls, Phylly and Gracie. Billeted to Catchetts Farm in Norfolk, they work the land along with the farm's owners. Then there's Jimmy, a young evacuee sent to the farm and feeling very worried about it, and Edwin, an American airman who quite literally almost runs into Jimmy and who gets to know the residents of the farm.
I love a wartime saga and A Home from Home is a moving and well-written example of the genre. It's my first Rosie Hendry book but I'd definitely be happy to read more. I was wondering what felt different about the style of this one and it made sense when I learned it had originally been serialised in eight parts in The People's Friend. It means the overall story isn't that long at 230 pages, but each section is perfectly formed as you might expect.
I haven't actually read many Land Girl books and so it made a refreshing change to read Phylly's and Gracie's stories. The whole thing is very family-orientated and even though the two women are not strictly part of the farm's family they are certainly made to feel like they are. Strong friendships, new relationships, a couple of rather exciting escapades and some sad wartime events combine to make this a jam-packed read with a delightful ending. I enjoyed A Home from Home very much indeed.
---
---
Rosie Hendry lives by the sea in Norfolk with her husband and two children. She is the author of the East End Angels series, which is an uplifting and heart-warming saga series following the lives and loves of Winnie, Frankie and Bella, who all work for the London Auxiliary Ambulance Service (LAAS) during the Blitz. Listening to her father's tales of life during the Second World War sparked Rosie's interest in this period and she loves researching further, searching out gems of real life events which inspire her writing.
Keep up-to-date with Rosie by following her on Twitter (@hendry_rosie), becoming her friend on Facebook (rosie.hendry.94) or visiting her website (www.rosiehendry.com).