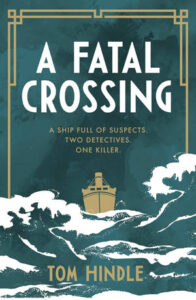 ShortBookandScribes #BookReview – A Fatal Crossing by Tom Hindle
My review today is of A Fatal Crossing by Tom Hindle which will be published by Century on 20th January in hardcover, eBook and audiobook. My thanks to Sarah Harwood PR for sending me a proof copy for review purposes.
---

---
November 1924. The Endeavour sets sail to New York with 2,000 passengers – and a killer – on board . . .

When an elderly gentleman is found dead at the foot of a staircase, ship's officer Timothy Birch is ready to declare it a tragic accident. But James Temple, a strong-minded Scotland Yard inspector, is certain there is more to this misfortune than meets the eye.

Birch agrees to investigate, and the trail quickly leads to the theft of a priceless painting. Its very existence is known only to its owner . . . and the dead man.

With just days remaining until they reach New York, and even Temple's purpose on board the Endeavour proving increasingly suspicious, Birch's search for the culprit is fraught with danger.

And all the while, the passengers continue to roam the ship with a killer in their midst . . .
---

---
A Fatal Crossing is a locked-room mystery with a difference: it's set aboard the Endeavour, an ocean liner bound for New York with 2,000 passengers, amongst them a potential killer.
It's no spoiler to say an unexpected death occurs at the beginning of the story. An elderly man is found at the foot of a flight of steps. One of the ship's officers, Timothy Birch, is tasked with dealing with what seems to be a tragic accident but when a Scotland Yard policeman, James Temple, who is also on board, takes an interest it appears that there might be a more sinister reason for the death.
Birch and Temple make for an interesting investigating duo. It's fair to say Temple is the lead and he's more maverick in his techniques than the quite strait-laced Birch, but their back-stories make them particularly intriguing. Birch is the narrator and we follow him as he travels around the ship with Temple. I enjoyed the descriptions of each section of the boat, from the extravagance of first class to the pleasant but smaller areas in second class, and then to the cramped conditions of third class.
I must admit to getting a bit befuddled at times as to who was who on the ship but not to the point that I couldn't follow what was going on. Many of the passengers are travelling to an art fair in New York and so there's quite a bit of crossover between them, and it seems that all roads lead back to a very special painting. It's a very engaging story that kept me hooked all the way through and which really kept me guessing in more ways than one.
Set in 1924, A Fatal Crossing is in the golden age style of crime writing and it has a definite nod to Agatha Christie's work. It goes along at a fine pace with a clever ending that I loved. I thought it was an excellent historical crime mystery.
---
---
Tom Hindle is originally from Yorkshire and now lives in Oxfordshire, where he works for a digital PR agency. A FATAL CROSSING is Tom's debut novel and was inspired by masters of the crime genre from Agatha Christie to Anthony Horowitz.