ShortBookandScribes #BookReview – A Christmas Gift by Sue Moorcroft @SueMoorcroft @AvonBooksUK #BlogTour
I'm so pleased to be taking part in the blog tour for A Christmas Gift by Sue Moorcroft today. My thanks to Sabah Khan from Avon Books for the place on the tour and the lovely hardback review copy of the book.

One Christmas can change everything…

Georgine loves Christmas. The festive season always brings the little village of Middledip to life. But since her ex-boyfriend walked out, leaving her with crippling debts, Georgine's struggled to make ends meet.

To keep her mind off her worries, she throws herself into organising the Christmas show at the local school. And when handsome Joe Blackthorn becomes her assistant, Georgine's grateful for the help. But there's something about Joe she can't quite put her finger on. Could there be more to him than meets the eye?

Georgine's past is going to catch up with her in ways she never expected. But can the help of friends new and old make this a Christmas to remember after all?
---
A Christmas Gift is a sweet romance novel set around Christmas, although it's not overly Christmassy so it didn't seem out of place reading it, as I did, in October.
Georgine France has had a tough time of it and when the novel starts she is dodging debt collectors, although the debts aren't even hers. She works at Acting Instrumental, a local further education performing arts college and loves her job, part of which is to organise the Christmas show.
Joe Blackthorn turns up one day as a new volunteer. Georgine likes him but there's something that doesn't quite seem right. When she finds out what it is she's pretty surprised! As was I, to be honest, although I was more surprised that Georgine didn't spot it a mile off.
Anyway, they do hit it off and I'm not surprised Georgine liked Joe as I thought he was a thoroughly lovely character. There's a whole lot more to him than meets the eye and I loved that about him. Georgine is fantastic too, such a lovely person with the weight of the world on her shoulders.
I have to say that I wasn't wholly into the performing arts college bits to the story and the Christmas show. I was far more into Joe's story and his background (which has more layers than an onion) and Georgine's own issues, which kind of made for a story on their own, although the arts college is key to it all and what brought them together in the first place. One of the things that stood out for me was the way the author portrayed the about turn in both of their circumstances over the years – not just rags to riches but also riches to rags.
I did enjoy this cuddle of a read. If you want an easy story with a festive feel, but still with plenty of depth to the story then this is going to be right up your street. The characters are well-drawn, the story is charming and the writing is engaging.
---

---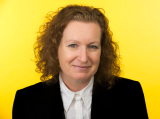 Award-winning author Sue Moorcroft writes contemporary women's fiction with occasionally unexpected themes. She's won a Readers' Best Romantic Read Award and been nominated for others, including a 'RoNA' (Romantic Novel Award). Sue's a Katie Fforde Bursary Award winner, a past vice chair of the Romantic Novelists' Association and editor of its two anthologies.
She also writes short stories, serials, articles, writing 'how to' and is a creative writing tutor.
The daughter of two soldiers, Sue was born in Germany and went on to spend much of her childhood in Malta and Cyprus. She likes reading, Zumba, FitStep, yoga, and watching Formula 1.