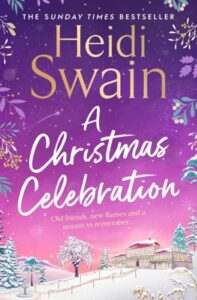 ShortBookandScribes #BookReview – A Christmas Celebration by Heidi Swain
A Christmas Celebration by Heidi Swain is published by Simon & Schuster and is available now in paperback, eBook and audiobook. In fact, at the time of writing this post the paperback is only £4.50 and the eBook a bargainous 99p. My thanks to SJ Virtue at Books and the City who very kindly sent me the book.
---

---
When Paige turns up unannounced at Wynthorpe Hall, she discovers the place she knew when she was growing up has changed beyond all recognition. She's only planning to stay for a short time, but is quickly pulled into local life.

One night while driving home after delivering library books and shopping to residents she stumbles across an isolated cottage and meets Albert, its elderly and rather grumpy owner. She quickly realises there's more to Albert than meets the eye and the same can be said for the other man she can't seem to help running into, handsome but brooding Brodie.

All three of them have a secret and a desire to hide away from the world, but with Christmas on the horizon, is that really the best way to celebrate the season?
---
---
A Christmas Celebration is my first Heidi Swain book and I'm asking myself why as her books seem right up my street. Certainly, this book was an absolute joy to read and it got me right into the festive spirit.
Paige has been working as an aid worker in Jordan but due to one or two unexpected developments she finds herself back in the UK and a suggestion from her parents leads to her turning up at Wynthorpe Hall, the home of her godparents. Being pulled into the heart of the Connelly family is just what she needs as she embarks on a new stage of her life. She steps into the breach to help local residents with their shopping, library books, and to provide simply a bit of company, and in doing so meets Albert, a man who has become very isolated. Add to the mix Paige's growing feelings for Brodie, who is also new in town, and I found myself reading a totally uplifting and heartwarming story.
This book provides the perfect blend of a gorgeous, cosy Christmassy read without being twee. The characters were lovely to get to know and there's a strong community spirit with everybody mucking in to help others. I now wish I could visit the town of Wynbridge and have a hot drink in the Cherry Tree Café and a wander through the Winter Wonderland at the hall. Although it's my first book by this author, I recognised some names from the blurbs of other books and can't wait now to read about those characters too. I love the way there's a thread running through all the Wynbridge novels but each can be read as a standalone.
I absolutely loved A Christmas Celebration. If you're looking for a last-minute festive read then I heartily recommend it. It's like a warm hug on a winter's day – a snuggly delight!
---

---
Heidi lives in beautiful south Norfolk with her family and a mischievous cat called Storm. She is passionate about gardening, the countryside, collecting vintage paraphernalia and reading. Her TBR pile is always out of control! To find out more, follow Heidi on twitter @Heidi_Swain or visit her website: heidiswain.co.uk.