#bookreview – Veronica's Bird by Veronica Bird & Richard Newman @Authoright #blogtour
Welcome to my stop on the blog tour for Veronica's Bird by Veronica Bird and Richard Newman. Thank you to Rachel Gilbey and Clink Street Publishing for the place on the tour and the review copy. Veronica Bird is an incredibly brave and inspiring lady and you can read my review of her story further down this post. First though, let's see what the book is about:

Veronica's Bird: Thirty-five years inside as a female prison officer 

Veronica Bird was one of nine children living in a tiny house in Barnsley with a brutal coal miner for a father. Life was a despairing time in the 1950s, as Veronica sought desperately to keep away from his cruelty. Astonishingly, to her and her mother, she won a scholarship to Ackworth Boarding School where she began to shine above her class-mates. A champion in all sports, Veronica at last found some happiness until her brother-in-law came into her life. It was as if she had stepped from the frying pan into the re: he took over control of her life removing her from the school she adored, two terms before she was due to take her GCEs, so he could put her to work as a cheap option on his market stall. Abused for many years by these two men, Veronica eventually ran away and applied to the Prison Service, knowing it was the only safe place she could trust. This is the astonishing, and true story of Veronica Bird who rose to become a Governor of Armley prison. Given a 'basket case' in another prison, contrary to all expectations, she turned it around within a year, to become an example for others to match. During her life inside, her 'bird', she met many Home Secretaries, was honoured by the Queen and was asked to help improve conditions in Russian Prisons. A deeply poignant story of eventual triumph against a staggeringly high series of setbacks, her story is lled with humour and compassion for those inside.
It's available now in ebook and paperback.
---
Many things about this book appealed to me on first reading the blurb. Being from South Yorkshire myself, the story of a young girl from Barnsley sounded fascinating. And then this girl went on to work not only for the police but for the prison service, the latter for thirty-five years.
What is clear from the beginning is that Veronica is a person with a huge amount of fighting spirit. Coming from a very deprived background with a cruel father, things were never easy. But her story of how she managed to get into boarding school, Ackworth, against all the odds, was so uplifting to read. Unfortunately, Veronica's brother-in-law, Fred, had other ideas and removed her from the school to work in his fruit and veg business. A rather strange and controlling man, it was the thing this lass needed. But even then, somehow she managed to pull herself out of the life that she was stuck in and climb to the top of the ladder in the prison service.
I enjoyed many parts of this book. I thought the tales of Veronica's life in the prison service would be what would really interest me but actually I preferred the stories of her childhood and early life and I thought it got a bit bogged down in detail in the latter parts of the book.  But this is ultimately a fascinating read about a fascinating life.
I love the play on words with the title, as 'doing bird' means serving a prison sentence – unbelievably apt! The book is written in conjunction with Richard Newman but the story is in Veronica's own words and her plucky nature and straight way of talking really shines through. I was shaking my head in disbelief at times during her story. Veronica has lived quite a life and I hope she is enjoying her much-deserved retirement.
---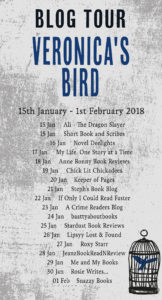 ---

After thirty-five years working for the Prison Service, Veronica Bird is now retired and living in Harrogate, North Yorkshire. She is still an active proponent of the justice system and continues to lecture across the country and is a supporter of Butler Trust, which acknowledges excellence within the prison system.
A qualified architect and Swiss-trained hotelier, Richard Newman enjoyed a forty-year career designing and managing hotels worldwide before retiring in 2001. Since then he has gone on to publish a number of novels: The Crown of Martyrdom, The Horse that Screamed, The Potato Eaters, The Green Hill, Brief Encounters and most recently The Sunday Times bestseller, A Nun's Story. He is currently working on a new novel about retirement and an autobiography of his time in the Middle East. He lives happily with his wife in Wetherby, West Yorkshire where he enjoys being close to his family.